UPDATE 1/12/08 9:28 AM:
Or maybe that WKNR announcement below could actually be something.
In the comments below this item, an OMW reader provides a link to
an item by the Lake County News-Herald's Bob Finnan
.
Quoting:
Michael Reghi will move into the 3 p.m. to 6 p.m. slot on WKNR-AM 850 starting today, an industry source said. Reghi will replace Mark "Munch" Bishop in that time slot.
Reghi has been with WKNR since shortly after he lost the Cavaliers' TV play-by-play job on FOX Sports Ohio, though he continued with other work for the regional sports network. He's been doing, among other things, WKNR's non-sanctioned Cavaliers' post-game show.
There's no word, assuming the report is correct, if Reghi will continue to do the post-game show. We'd expect WKNR's Greg Brinda to add that to his menu if not. At this point, we'd guess Reghi will do both.
Finnan says "Munch" is not out of work, as he'll continue to sell advertising...just not for his own show, anymore. (It's long been speculated that Bishop's deal hinged on the former WMJI sports director bringing in his own sponsors.)
To say "Munch on Sports" wasn't for everyone may be an understatement, quoting a source in the Finnan article:
The source said the ESPN station quickly realized there was little middle ground with Bishop's show. Listeners either loved him or hated him.
Our original item is below...
---------
There's not that much going on as we return for Monday morning, but here's what we have...
WKNR ANNOUNCEMENT:
Good Karma sports WKNR/850 Cleveland "ESPN 850" is touting a "major programming announcement" later this morning, that announcement scheduled for 11 AM.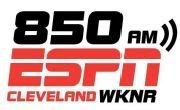 OK, WKNR assistant program director Aaron Goldhammer, we're not falling for it, THIS TIME! Heh!
We joke about that, because the station has pulled this before. It pre-announces an announcement, and speculation amongst OMW readers - not to mention Your Primary Editorial Voice(tm) - builds.
Hammer himself fuels the flames in the press release:
"When Cleveland sports fans hear Monday's news, they will agree that it's good to be alive."
Yeah, yeah. We get it. It's Monday at 11, and that's during "Rizzo on the Radio", and one of host/FOX 8 sports anchor Tony Rizzo's favorite catch phrases is "It's good to be alive!!" ("Weeeeeee!")
Consider us skeptics. Instead of something really big, like a new program or station host, or the "coveted third hour" of the currently 2-hour mid-morning show, it's probably another announcement of a charity event.
And bless Rizz's heart for doing that stuff. Really. But a live remote at a charity event is just not a "major programming announcement".
But yes, we'll still be listening...
BIG CHUCK'S PINK FLAMINGO:
Many Northeast Ohioans are too young to remember when the Cleveland suburb of Parma wanted to run "Big Chuck" Schodowski out of town on a rail.
Now, the city is honoring the local TV icon.
The Cleveland Plain Dealer's Sarah Crump reports that current Parma mayor Dean DePiero, clearly not following his predecessors,
will award the former WJW/8 personality the "key to the city"
at a January 20th ceremony.
Despite the fact that it happened decades ago, on the old "Ghoulardi" show, some in Parma are still nursing their wounds long after city officials - at the time - vehemently protested the show's "Parma Place" skits and the various "certain ethnic" jabs. Quoting the PD:
Still, (city council president Charles) Germana is happy to claim Schodowski, who lived for a time in Parma, as a son of the city. The true troublemaker, he said, was the late Ernie Anderson, who dressed up as mad scientist and horror movie host Ghoulardi on the show. The golden-toned Anderson later went on to Hollywood broadcasting fame.
"Chuck never meant to harm Parma," said Germana. "I think it was Ghoulardi."
Umm, Mr. Germana? It's 2009...though yes, the jokes continued well into "Ghoulardi's" successor programs, "Hoolihan and Big Chuck", and "Big Chuck and Lil' John". The genial style of Schodowski apparently smoothed over Parma's objections over the years.
There are side notes to this story, of course. Parma mayor DePiero is now married to a FOX 8 personality, news reporter Kathleen Cochrane. And in another Parma-to-TV connection, former WEWS/5 anchor/reporter Jack Marschall is now working as a city spokesman.
We also mention this item because we've finally finished Schodowski's book, "Big Chuck!" - written by Chuck with PD television writer Tom Feran.
We're not really the place for book reviews, but we'll mention that we enjoyed the "inside look" into Schodowski's long run in Cleveland TV.
At some point, Chuck realized that he didn't have to worry about if he "left the foundry in good standing", worried that he might have to return to his former work if this whole TV thing didn't work out.
And his off-camera work continued well into his career. At one point, Schodowski had to give up doing field production work for Cleveland Browns and Cleveland Indians games, since "Big Chuck" started getting recognized too much.
Later off-camera directing work garnered Schodowski industry kudos nationwide - and awards. He writes about his chance to "go Hollywood", joining old friends like Anderson and Tim Conway, but he turned it down...feeling at home in Cleveland, and not in Hollywood.
Chuck very briefly deals with the Fox years at WJW (the network's purchase of the station is under the heading "Starting to Shut It Down"), but doesn't say all that much. He did note that local station officials did their best to keep the show going, in the face of network-mandated clearances of syndicated shows all over the weekend schedule.
But as we said at the time, we didn't realize that "Big Chuck" was over 70 years old, and retirement was most certainly on the horizon. He'll always be timeless to us...