With our schedule being off, this is probably the last item for the week, but we do have some things to pass along...
RETURN OF AIR ERA?:
OMW has reported over the past year or so that various economic factors have grounded local TV news helicopters for the most part in the Cleveland TV market.
Only Raycom Media CBS affiliate WOIO/19's "19 Action News" has been regularly flying its helicopter, a fact the station has promoted relentlessly on the air for about the past couple of months. "Action News" has taken to pointing out that while other stations are scrambling ground crews to respond to breaking news far from downtown Cleveland, the folks at Reserve Square take a few short minutes to send out a helicopter.
As it turns out, the "19 Action News" chopper is no longer alone in Cleveland's skies.
OMW hears that Local TV Fox affiliate WJW/8 and its "Fox 8 News" has returned "SkyFOX" to the air, and we hear that the copter is back in the air "at least through the end of 2009"...and that efforts are being made to return "SkyFOX" for 2010 as well. The aerial vision returned to "Fox 8 News" on Thursday.
We do not know if the copter WJW is operating is the original "SkyFOX", though we'd assume it is if the pictures being sent back to South Marginal are in HD.
We also have no word on if the airborne return will mean Pat Brady's return to the "Fox 8 News" team, though that would certainly be a popular move among viewers.
And we also have no word if Gannett NBC affiliate WKYC/3 or Scripps ABC affiliate WEWS/5 are considering a return to Air Power....
CONDOLENCES ON A LOSS:
Being the wife of an Ohio State Buckeyes football legend means you have a pretty high profile in Columbus, and it means a lot of people are going to miss Stefanie Spielman.
The wife of ex-OSU star Chris Spielman has been waging quite a public battle with breast cancer since a diagnosis over a decade ago, but lost that battle Thursday at the age of 42. Columbus CBS affiliate WBNS-TV/10 has more
in this story
:
Spielman and her husband, Chris, tirelessly raised breast cancer awareness and helped form Stefanie's Champions, raising millions of dollars for Ohio State's James Cancer Hospital.
In 1998, at 31, a biopsy confirmed her fears, that she was diagnosed with breast cancer, and the couple began their battle.
Without hesitation, Chris Spielman put his career on hold with the NFL's Buffalo Bills to be at his wife's side.
Since leaving the NFL, of course, Chris Spielman has maintained a very high media profile. In addition to his work as an ESPN football analyst, he's a long-time host at Dispatch/RadiOhio sports WBNS/97.1-1460 "The Fan". His current radio role puts him as a co-host/contributor to the Fan's "Big Show" from 1-3 PM.
The radio station has a very comprehensive page commemorating Stefanie's passing, and remembering her life,
here
. (The picture above is courtesy of that page.)
Quoting:
Public calling hours will be Monday November 23, 2009 at the Longaberger Alumni House on the campus of The Ohio State University from 1-8pm for those inspired by Stefanie's life and her service to the community. A celebration of life memorial service will be held Tuesday at Trinity United Methodist Church in Grandview.
Hopefully, the outpouring of support for the Spielman family will help them continue to raise millions for breast cancer research, and raise awareness for women and their families...
BROWNS BLACKOUT:
The NFL's hapless Cleveland Browns avoided a local TV blackout of the team's recent Monday Night Football game against the Baltimore Ravens, thanks to a joint effort between the team, a beer company and the local TV rightsholder, WJW/8 "Fox 8".
(Considering the result of the game, maybe they should have just not done anything!)
But there's a Browns blackout ahead, as it turns out, that will affect parts of Ohio.
The 1-8 local alleged professional football team
will be blacked out in Northwest Ohio
for the game with the Detroit Lions, a consequence of the Toledo TV market's proximity to Detroit. The always-hapless Lions, also 1-8 this season, aren't doing any better at the ticket window than the Browns, and Toledo is a secondary market for the Lions.
This means that unless you're close enough to the Cleveland TV market to pick up Cleveland CBS affiliate WOIO/19, you won't be able to see Browns-Lions on Sunday. And a quick look at
this unofficial map
from J.P. Kirby's excellent "The506.com" site shows that not many other TV viewers are going to be, umm, subjected to that game.
The small swath of green means only parts of Ohio and Michigan will catch Cleveland vs. Detroit in CBS' early game. The blacked out portions of those states are getting a presumably better game, according to Mr. Kirby's site, Baltimore vs. Indianapolis...
HO HO NOT YET:
We're still waiting for Christmas music radio format flips in Cleveland, with CBS Radio AC WDOK/102.1 "SoftRock 102.1" sticking with an early Monday morning change to all holiday music.
One of our readers notes that a Mahoning Valley station, like WDOK, is counting down to the holiday tunes in an online countdown.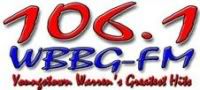 It's Clear Channel classic hits WBBG/106.1 "Big 106.1" which is touting the Way to Holiday Music, soon.
The online countdown appears to be headed for the 12 noon hour on Wednesday, November 25th...we don't know any more than that.
The early entrant in the Christmas Music Sweepstakes in Northeast Ohio was Clear Channel Canton sister AC WHOF/101.7 "My 101.7", which has been pumping out holiday tunes since Monday afternoon...