The man who has owned a small Mahoning Valley radio group often written about here in OMW has died.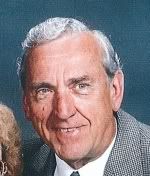 An
obituary
notes the death of Beacon Broadcasting owner Harold Glunt earlier this week:
NILES – Harold F. Glunt, 75, died of cancer on Thursday evening, Jan. 21, 2010, at his home. (snip)He semi-retired from Glunt Industries in 2001 and purchased Beacon Broadcasting in Warren to focus on Christian Broadcasting in the area.
Glunt Industries was the steel supply company Glunt started in 1966. (The photo and obituary are courtesy of Holeton-Yuhasz Funeral Home in Niles, which is handling arrangments.)
We don't have definitive information about the future of Glunt's Beacon Broadcasting stations in the Youngstown market - sports WANR/1570 "Fox Sports 1570" Warren, Christian contemporary WRTK/1540 "Freq 1540" Niles, classic country combo WLOA/1470 Farrell PA and WGRP/940 Greenville PA, and the sole FM in the group, Christian/eclectic rocker/talk WEXC/107.1 "Indie 107.1" Greenville PA...though there has been interest in that latter station, before Glunt's passing...