As reported earlier here on OMW, Kent-based public TV stations WNEO/45 Alliance-WEAO/49 Akron are about to take on a new identity.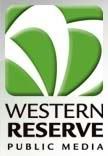 Starting Wednesday, the stations now known as "PBS 45 & 49" on the air will become "Western Reserve PBS"...under the umbrella name of "Western Reserve Public Media".
Both are just branding changes for 45/49 - the call letters will remain the same for both stations, and the stations' owner continues to be known legally as Northeastern Educational Television of Ohio, Inc.
Those assurances, and assurances that the name change won't affect programming, are found
on a page on the stations' website
about the name change:
While our brand identity has changed, we are still the same organization you've known for over 33 years. We have the same staff of employees and the same broadcast schedule — only the name has changed. Our new brand identity is Western Reserve Public Media and the channels PBS 45 & 49 are now Western Reserve PBS, which will continue to operate as the primary broadcast service of the organization.
You can count on your favorite PBS 45 & 49 programs to be your favorite Western Reserve PBS programs.
The page also has humorous videos about the name change, which have also aired on TV.
The website address for WNEO/WEAO will also change to
WesternReservePublicMedia.org
, which as of this writing forwards to the existing
PBS4549.org
site.
This is the first of two major public relations steps for the local public TV outlet. The second is to educate Youngstown-market viewers of WNEO/45 that the station will go all digital in November, with analog channel 45 signing off early.
Oh, by the way, we checked with the good people at Western Reserve/WNEO/WEAO, and they tell us that indeed, at this time, analog low-power translator W58AM Youngstown will remain on analog channel 58 after the digital transition.
Though Western Reserve has a construction permit to convert it to digital operation (DT 44), among other things, money would have to be raised to pay for that conversion. As a result, any conversion of the analog translator meant to serve "low-lying areas" of the Mahoning Valley is not on the immediate to-do list right now.
W58AM and all other low-power translators, LPTV stations and Class A LPTV stations are not affected by the February 17, 2009 digital transition. While they can certainly still convert to digital if licensed to do so, it's a voluntary conversion for those low-power stations...