OMW tips our virtual hat to the "Sunday Oldies Jukebox", the adult-programmed day full of oldies music heard every Sunday in the Akron market over WSTB/88.9 Streetsboro.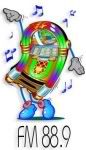 The Akron Beacon Journal's Jim Carney has
an article in Thursday's paper
about SOJ, which takes over the airwaves of the station programmed with alternative rock music six days a week by student volunteers at Streetsboro High School - using the on-air slogan "The AlterNation".
On Sundays, listeners in greater Akron and nearby are treated to a wide variety of oldies, including some that haven't been heard on the FM dial in a long time. (There's a reason that Clear Channel classic hits WMJI/105.7 "Majic 105.7" is not called "Oldies 105.7".)
The full day of programming is delivered by a hearty crew of adult volunteer announcers, some of them profiled in the ABJ article.
Leading the merry band of oldies-purveyors is the one and only "Uncle Bill" Weisinger, the program director of the effort. Carney has a sidebar Q&A with "Uncle Bill"
here
.
Like many of the SOJ staff, "Uncle Bill" is a regular OMW reader...so, a hearty "congratulations" to him, from us, on over 10 years of service in a radio format that's very much appreciated by its listeners...particularly as "oldies" becomes a dirty word on the FM band. SOJ actually celebrated its 10th Anniversary on November 30th of last year.
And a side nod to Rubber City Radio's WAKR/1590 in Akron, which has been embracing oldies music - and the word itself - in recent months. "SOJ" on 88.9 on Sundays is a nice "richer" companion to what WAKR does during the rest of the week, with a greater focus on lesser-played songs of the oldies era.
We were kind of preoccupied when SOJ's 10th anniversary came by, with infrequent updates, but we had a lot to say
a year ago
...