Like many broadcast ventures, the start of "Sunday Oldies Jukebox" on WSTB/88.9 was rather modest in its debut some nine years ago.
"It's been almost twenty years since Portage County radio listeners enjoyed commercial free oldies. In 1978 what was then WSTB 'Golden 91' dropped the oldies format and never looked back, until now," "SOJ" program director "Uncle" Bill Weisinger wrote in November 1997, as a group of volunteers prepared to launch a weekly one-day format change on the otherwise rock station - operated during the week by students at Streetsboro High School.
Fast forward to 2006, and "Sunday Oldies Jukebox" is actively targeting the entire Akron market, which otherwise has no station devoted to pre-1970 rock oldies...aside from whatever older songs are still in Cleveland Clear Channel powerhouse WMJI/105.7's playlist.
(We haven't checked lately, but as "Majic 105.7" continues to try to update its playlist like most commercial "oldies" stations, we'd guess that's a small number to count.)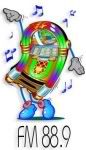 That full-market focus from the school district-owned station became somewhat easier in 2003, when WSTB started transmitting from a tower on the campus of Kent State University - ironically, the same one abandoned by WKSU/89.7 after its own move to a tower near Akron's Rolling Acres Mall.
The move dramatically improved the WSTB signal in the Akron area, and like Kenston High School standards outlet WKHR/91.5 Bainbridge, the station started filling an unmet need in a larger, nearby market... in a format rapidly abandoned by commercial outlets, in the case of WKHR's standards and the "Sunday Oldies Jukebox" on WSTB.
And though the WSTB signal means it can, like all other broadcast outlets in Portage County, focus primarily on greater Akron, the station hasn't forgotten its roots entirely - as noted by the station's recent full-steam-ahead Portage County election coverage.
"Uncle Bill" tells us that listeners in six Northeast Ohio counties check in with "SOJ", including some who are so hungry for 50's and 60's oldies that they drive closer to the broadcast signal on their Sunday drives.
Among the list of all-volunteer "SOJ" air personalities are at least three regular readers of OMW, so congratulations to them directly!