Since your Primary Editorial Voice(tm) may be a bit busy with holiday-related stuff this Thanksgiving week, we'll put up some Monday items early on a Sunday night. We'll still be around and posting, but probably not as much this week...
MORE CHRISTMAS MUSIC:
It looks like we won't have to wait long for a traditional early entrant into the Cleveland Christmas Music Sweepstakes.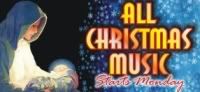 Salem CCM WFHM/95.5 "The Fish" is announcing on its website that the holiday tunes start rolling Monday.
And since we have yet to hear them on CBS Radio AC station WDOK/102.1 "Soft Rock 102.1", which is already advertising itself as "the home of holiday music", we'll assume they've got the same plan in mind...give or take a day or two.
Why do stations flip to Christmas music at ever earlier dates?
Blame high ratings, which AC stations, especially, see when they turn on the Rudolph Machine at this time of year. A New York City AC station saw their ratings go through the proverbial roof the first time they made a big deal of going "all-Christmas", and you know what other radio executives thought after seeing that.
(That's radio - an industry with more copying than the photo-duplication business.)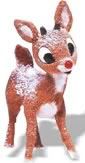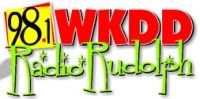 And speaking of Rudolph, though Clear Channel's WKDD/98.1 is not breaking format for holiday music on the air, they're riding the Christmas Music sleigh online.
"Radio Rudolph"
is already up at the Akron/Canton hot AC outlet's website, with 24/7 streaming Christmas music.
And there's another reason why stations do the holiday tuneage, either online or on the air - WKDD has lined up a presenting sponsor for "Radio Rudolph"...
NOW, HERE'S THE MAN WHO MAKES THAT DIFFERENCE:
A regular OMW reader gives us the heads up - Rubber City Radio VP Nick Anthony is now being heard regularly behind the microphone as well.
In particular, the former WHLO/640 mid-morning talk personality - who went off the air and strictly into management and consulting long ago - is voicetracking some weekend shifts for Rubber City standards flagship WAKR/1590 Akron.
We don't know for sure, but we believe this is the first time Nick's been heard on a regular, scheduled basis on the air since he did his talk show at the old "WHLO News/Talk 64" in the mid-1970's.
And that's where we got the headline for this item. Former WHLO general manager Allen Saunders cut the hour openers for the station, and used that line to introduce the station's hosts...nearly all male, by the way, except for a woman or two occasionally on the weekend schedule.
(Back then, of course, 640 in Akron was owned by Susquehanna...and the only things the current Clear Channel-owned WHLO shares with it are the never-changed call letters, the frequency and a similar format. And Susquehanna itself is now dead, having been swallowed into Cumulus.)
And yes, your Primary Editorial Voice(tm) can list just about every former WHLO News/Talk 64 host, and what they are doing now. For one, former night/weekend host Ron Verb is now the long-time afternoon drive co-host at Clear Channel talk WKBN/570 in Youngstown...
AND SPEAKING OF WKBN:
No, we didn't plan it this way, but...while we're here...
You can add that Youngstown talk radio station to the list of stations doing streaming audio. We don't know when WKBN turned on
the online feed
, but it wasn't that long ago.
Though the 570 signal does get into a decent chunk of the Akron/Canton/Cleveland area, the stream may allow some of those to the far west to sample "Ron and Casey" in afternoon drive (Ron is paired with former rock WNCD/93.3 midday personality Casey Malone, who apparently finally convinced management to take her off double duty), and other local hosts like Rob Mangino in mornings, and WKBN operations manager Dan Rivers in middays.
WKBN has never carried Premiere syndicated host Glenn Beck, or any other mid-morning syndicated show - as Rivers basically took over directly from late market icon Dan Ryan after his passing some years ago...
RIZZ'S DEBUT:
We did manage to orient the radio in the right way to pick up at least some of the first talk show by WJW FOX 8 sports anchor Tony Rizzo on WWGK/1540 "Cleveland's ESPN Radio 1540" on Saturday. That, and the hastily-added streaming audio link worked fine for us...
And we say "first" with some confidence, judging by comments Rizzo made himself on the Saturday 10 AM-noon show dedicated to the Ohio State/Michigan showdown later that day.
Tony seemed eager to keep doing shows for the Good Karma Broadcasting sports station. He noted that he'd like to do a regular show - presumably in that Saturday morning time slot or somewhere on the weekends - but said he'd have to talk to management about it.
That management, by the way, wouldn't be Good Karma boss Craig Karmazin, who would appear to be eager to say "yes" to Rizzo's regular presence on his new ESPN Radio affiliate. It would be the local management of Rizzo's primary employer, FOX 8.
As Tony put it himself on the air Saturday, WJW and FOX "basically own" his career, and they'd have to give the go-ahead for him to moonlight as a radio talk show host.
We're assuming that no major hurdles will get in the way, and you'll hear Tony Rizzo with a regular show on WWGK every weekend - if not starting next week, then "soon", as Rizzo himself said at the end of his show.
We're just speculating, though, as we have not had confirmation from either WWGK's Mr. Karmazin or WJW's Mr. Rizzo...