Some news and some musings to round out our end-of-the-week late dinner menu...
UPDATE 11/18/06 11:07 AM:
There is now a local streaming link up at the ESPNCleveland.com website for the below-mentioned special.
To save time, since there's only an hour left in the show and you still have to sign up (for the umpteenth time) to get the link...we'll provide the direct link that's working for us now
here
.
RIZZO ON WWGK, BUCKS ON WKNR:
If Good Karma Broadcasting sports WWGK/1540 "Cleveland's ESPN Radio 1540" is hoping to get online listeners to tomorrow's local one-time special OSU/Michigan show with FOX 8's Tony Rizzo, their Internet elves better hurry.
As of this writing, there is still no link, either hidden or open, on
ESPNCleveland.com
for streaming audio of the 1000 watt daytimer. The "Listen Live" link still - on two browsers - forces you to fill out your name/address/etc. before kicking you to a link for...
ESPNRadio.com
.
We do know that other Good Karma sports stations stream, including sister ESPN affiliate WAUK/1510-WMCS/1290 in Milwaukee. But the local stream isn't up here - yet.
Our point is that we get a pretty scratchy signal out of WWGK down here at the OMW World Headquarters, so we may or may not be able to hear "Rizz" on his WWGK debut.
We'd almost put money on his voice being heard regularly on the station, though it obviously could not be in the afternoon drive weekday hole that Good Karma owner Craig Karmazin will assuredly fill with a local program at some point. (That hint he gave us back just after the station's launch was rather strong.)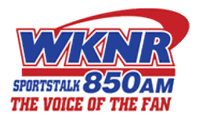 We don't know if it's the new competition, or the massive hype surrounding Bucks vs. Wolverines, but Salem sports WKNR/850 seems to be kicking up its game.
The station actually sent afternoon drive host Kenny Roda to Columbus (!) Friday afternoon, where he did his show live from former Buckeye Eddie George's restaurant.
Furthermore, the station will air its Saturday morning show with the gang - Jason Gibbs, Mike Gelsinger and Josh Sabo - also live from "Eddie George's Grille", from 10 AM until the start of the Buckeye Radio Network pre-game at 2:30 PM, and the game itself an hour later on 'KNR.
Details on all of that
here
.
We're guessing that all the sponsor money tied to the Big Game was enough to convince usually stingy Salem to open up the purse a little more...and to put about three hundred OSU logos on the WKNR website this day before the game...
CBSSTREAM:
It was not that long ago that former CBS Radio (then Infinity) boss Mel Karmazin - father of a certain new Cleveland sports radio station owner - forbid every station in the chain from streaming audio on the Internet.
We recall the policy even showing up online after CBS/Infinity bought stations which had existing streams, then shut them off.
Fast forward to late 2006, and CBS Radio is falling all over itself to stream its stations.
To wit, we told you earlier that the company's alt-rock/talk outlet in Cleveland, WXRK/92.3, recently started sending out its product over the Internet. Well, the company's three other stations in Cleveland - classic rock WNCX/98.5, AC WDOK/102.1, and hot AC WQAL/104.1 - have quietly added a "Listen Live" button to their web pages as well.
The stream is a high-quality 64kpbs model that only requires registration once for all four stations. They also offer a 32kbps stream for dial-up users.
Thanks to OMW reader Mark Geyman at OhioBiz.com for the tip. He's added the streams to his own
"Ohio Streaming Directory",
which is a handy place to bookmark for anyone looking to listen to Ohio radio stations online - or to pick up any streaming audio from the Buckeye State...
HO, HO, HO!:
Oh, when checking out
WDOK's site
, we noticed that it's already promoting itself as "Your Official Holiday Music Station".
We then tuned into 102.1, but the station isn't playing Christmas music during the syndicated "Delilah" show airing at this hour. If it hasn't officially flipped yet, it would certainly be likely to do so soon.
We do note WDOK's presence on the
100000watts.com Christmas Station List
, which is about as official a list as you can get in this business. Thanks to our colleague and long-time Friend of OMW Scott Fybush for his hard work on that list each year...
We'll also be checking out Salem CCM outlet WFHM/95.5 "The Fish" for Christmas sounds, as we believe they were the first to make that move in 2005 in Cleveland...
"PROGRESSIVE TALK STAR" FOUND:
And it's not, unfortunately for his fans here, contestant Mike Lampers, Clear Channel liberal talk WARF/1350 Akron "Radio Free Ohio"s local entrant in the national contest to find the next "progressive talk star".
Coming soon to a liberal talk outlet near you: Russ Belville, who was KPOJ/620 Portland OR's winner. He bested Curtis Hannum, who won the local contest at KKZN/760 in Denver, in the two-person finale on Thursday.
But as we reported here, Lampers got pretty far. He was in the four-person semifinal round.
Belville has been promised a weekend nationally syndicated show, which we'll presume will air on WARF and the other contest stations.
We're wondering if Lampers, or anyone else, will eventually get a weekend local show on "Radio Free Ohio". A number of progressive talk stations with no local weekday programming do open up some of those slots...