Some very big news is about to break regarding Dover/New Philadelphia stations WJER/1450 and WJER-FM 101.7, the latter station getting ready to make a move north into Clear Channel's Akron/Canton cluster.
To that end, OMW hears that you can circle - in pencil, depending on weather - December 11th on your calendar...if you're hoping to hear at least the first sounds of the new FM 101.7 from its facility at 22nd and Whipple in Canton...whatever those sounds are.
We note the weather, because the move depends on how long it takes for the tower to be erected at that location. We mentioned here yesterday that earth is moving again at the cleared tower site, which means they'd have to have the new tower for WRQK/106.9 and the future 101.7 completed in just under a month to make that date.
OMW hears that WJER operator Gary Petricola has been given a "drop dead" end date of December 10th for his operation of FM 101.7.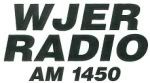 And to THAT end, OMW hears that it should be official soon: Petricola, who has been running the Dover/New Philadelphia stations under an LMA with Clear Channel since the company bought them from him a couple of years ago, will hang onto AM 1450 when 101.7 moves to its new Canton-area facilities.
We hear that all is done but the dotting of the proverbial I's and crossing of the proverbial T's, and Petricola will buy back his former AM station from Clear Channel to keep it in the Tuscarawas Valley.
It would put into motion a process that's basically already been happening on the air for some time, with WJER mainly consolidating its AM and FM operations in preparation for the departure of the FM side to the Clear Channel World Domination HQ/Southern Command on Freedom Avenue.
The move was also telegraphed by the logo above, which appeared on WJER's website months ago.
And a clarification to our earlier item. It appears WJER's AM side is still mounting a separate morning show with Randy Fox, alongside the FM's show hosted by Bill Morgan. We're told by local listeners there that the stations basically simulcast otherwise now, except for some sports events in the evenings and on weekends appearing only on AM 1450...