From near, from far, and from in between:
"RADIO FREE OHIO" STREAMS:
Clear Channel liberal talk WARF/1350 Akron "Radio Free Ohio" dips its toes into the streaming audio water starting today.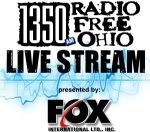 The station's
new streaming feed
will not only carry the regular lineup of liberal talk shows, but will also bring Akron Aeros games to the world during the Eastern League baseball season...and high school sports as well.
What "Radio Free Ohio's" online listeners will -not- hear is University of Akron Zips football and basketball. The Zips have a separate streaming deal with GoZips.com, though we'll be darned if we can find where it is on that UA athletics website.
Oh, and we bet that logo above gave some liberal talk fans a start.
No, it's not Rupert Murdoch's FOX that's sponsoring the stream for "Radio Free Ohio". It's Fox International, a Cleveland-area company which sells home products on its website...and as far as we know, has no connection to the FOX News Channel or anything Murdoch-ian...
HARRY'S OUT:
You may remember him better as Scott James, a former air personality for 92.3 in the Cleveland market...in its days as - if we remember right - top 40 outlet WRQC "92Q".
But his real name is Harry Legg.
No, really, it is. And he's been working as Creative Services Director at Clear Channel's rhythmic top 40 outlet in New York City, WKTU/103.5. Until now, that is.
Legg becomes one of the most recent victims of a major round of Clear Channel cutbacks nationwide. He's out at WKTU along with the station's overnighter, who'd been there for 11 years.
The giant broadcasting company has been dumping people across the country, a move which is widely believed to be to prepare itself for an acquisition by a group of private equity funds.
We're pleased to report that Scott, er, Harry is not exactly standing on the street corners looking for change after being dumped from WKTU. We're told he has
a thriving voice over/imaging business
.
By the way, we lost them long ago, but your Primary Editorial Voice(tm) once had a set of jingles from "92...WRQC...Cleveland Heights OHIOOOO!" on a reel-to-reel tape. Oh, we lost the reel-to-reel deck, too, as most people (and stations) have.
92.3 is now, of course, WXRK "92.3 K-Rock", CBS Radio's alt-rock/talk outlet...
YOUR FM TALK WATCH CONTINUES:
We'll put this in a group item because we'd already announced it before.
But Clear Channel has finally launched its latest FM talk outlet. It's New Orleans' 99.5 FM, which goes by the moniker of - believe it or not - "The New 995FM.com".

No, that's not just the URL for
the station's website
...the station is actually calling itself that on the air, complete with the "dot-com".
The former WRNO is the company's third large market FM news/talk outlet, after Pittsburgh (WPGB) and Minneapolis (KTLK). It actually has a pretty decent amount of local talk, with ABC Radio's Sean Hannity the only major daytime syndicated show on the station.
Premiere's Rush Limbaugh is not part of the equation on the new New Orleans FM talker. But he's already on FM in the market, as Entercom news/talk giant WWL/870 added a simulcast on 105.3 FM some time back.
Why has New Orleans, of all places, become a hotbed of FM news/talk? Most of the radio operators there say the rebuilding city is hungry for information, in its reconstruction mode after Hurricane Katrina...
AND JUST BECAUSE WE'RE HERE:
AllAccess reports that Clear Channel top 40 giant WNCI/97.9 Columbus has re-inked program director Michael McCoy to a new deal of unspecified length and terms.
And since we are talking about Columbus, and all other news is secondary there this week behind the You Know What Game, he's quoted as saying "Michigan sucks, go Bucks!"...