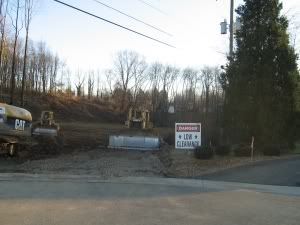 Today brings us to our latest update on now-WJER-FM/101.7's planned move north into the Canton market
And it's time for pictures of the construction at the site of a new tower that will soon hold both it and Cumulus (for now) (eventually Clear Channel) (honest!) (really!) rock WRQK/106.9 on 22nd St. NW off of Whipple Ave. NW in Canton.
But this time, it wasn't your Primary Editorial Voice(tm) piling into the OMW Mobile for a drive down to Canton.
These pictures are supplied by not one, but TWO readers who happened to be near the site.
(Who'da thunk it? Maybe the 22nd and Whipple tower site construction can become a tourist attraction! People have to see SOMETHING after visiting the Pro Football Hall of Fame, no?)
Progress is moving ahead by the day. Our first reader snapped the picture above on Friday afternoon.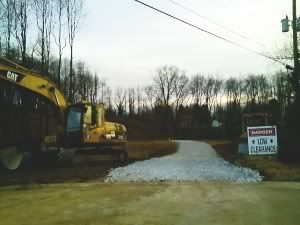 But by Monday afternoon, gravel had already been laid down for the road leading to what will presumably be the actual site for the tower, which could start going up soon at this rate.
There still is much that needs to be done, though.
They do, of course, have to construct even a rudimentary transmitter building, move in and hook up the equipment and such, and well, put up the steel that will become the transmitting tower for WRQK/106.9, and which will hold the new antenna for (insert-call-letters-here)/101.7 North Canton.
Then, that equipment has to be tested and the like.
It would seem, to this non-engineer, a daunting task to get that all of that done between now and December 11th - particularly with winter-like weather in the forecast for the end of this week.
But progress does march on. And we stand by our earlier item that December 11 is indeed the target date for Clear Channel to take over operation of 101.7 FM, weather permitting.
To that end, another alert OMW reader pointed us to this "We're staffing a new station!" ad which appeared on the AllAccess website "Job Market"...with wording by Clear Channel Akron/Canton operations guru Keith Kennedy that the Canton/Stark County Chamber of Commerce may want to borrow:
Openings in the Hall of Fame City
The Hall of Fame City of Canton, Ohio is ready to give birth to a new radio station. Northeast Ohio is a great place to live and work. Just minutes from Akron and Cleveland, Canton provides a well rounded, family-friendly environment. The abundance of shopping, restaurants and recreational opportunities in the Canton/Stark County area, offer big-city amenities, with beautiful, rolling countryside just minutes outside of the city, and our murder rate went down this year too. We are looking for candidates in on-air positions and in programming. Selector experience is a plus, but not required. All format experience considered. Please send all materials to: 101.7fm, 7755 Freedom Ave, NW, North Canton, Ohio 44720. Attn: Keith Kennedy. Please no MP3's. Clear Channel is an Equal Opportunity Employer.
Oh, Gary Petricola hasn't heard about this, either.
(Sorry, we couldn't resist...)