With Clear Channel Akron/Canton hot AC WKDD/98.1's former local evening voice now being heard alongside morning host Matt Patrick, the station has turned to a big syndicated name to take the vacated evening slot.
The 7-11 PM weeknight slot once occupied by Krissy Taylor's voicetracked shift will be occupied starting Monday by Westwood One's "Billy Bush Show". Bush hosts TV's "Access Hollywood", and does his syndicated radio show from the TV show's studio.
Quoting 'KDD:
Billy is able to have the biggest names in Hollywood on his show every day. Using the resources of Access Hollywood, Billy delivers exclusive interviews, news and gossip while continuing to play music.
Ms. Taylor, meantime, is getting used to life as a live morning co-host at Freedom Avenue, settling in alongside Patrick for what is now being called "The Matt Patrick Show".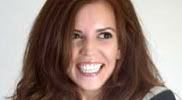 Patrick has made Krissy feel welcome both on the air and
on his web page
, where he jokingly caught her wearing a T-shirt from WKDD sister Youngstown market station "95-9 Kiss FM" (WAKZ). That's where she apparently still does 9 AM-noon (we presume voicetracked out of Freedom Avenue), according to
her web page
there.
And in something we didn't report yet, Youngstown's version of "Kiss FM" has also added resident Clear Channel/Premiere midday syndicated virus Ryan Seacrest from noon to 3...