It's been a very busy couple of weeks or so, media news-wise, so let's step down for just a bit and talk about media-related books...and some other items.
The folks at Cleveland's Gray and Company remind us of their latest book focusing on Cleveland TV,
"Big Chuck! My Favorite Stories from 47 Years on Cleveland TV"
by Chuck Schodowski (with Plain Dealer writer Tom Feran).
Quoting their release about the book by the now-retired WJW/8 mainstay:
The book includes hundreds of funny and surprising stories from Chuck's career in television.
Since 1960, Chuck has been on camera, behind the camera, and in the director's chair. He collaborated with Ernie Anderson on the groundbreaking "Ghoulardi" show, and continued to host a late-night show with popular co-hosts Bob "Hoolihan" Wells and then Lil' John Rinaldi across four decades—the longest such run in TV history.
He worked alongside a wide range of talented people, from Tim Conway to Burgess Meredith to Muhammad Ali. He wrote and directed two thousand hilarious sketches that were watched religiously by adoring fans, including Drew Carey, Tom Hanks, Meat Loaf, Don King, and even two of NASA's top astronauts. His honors are almost too many to mention: dozens of Emmys, film and television festival awards, even a Grammy nomination—for a polka record, what else?
Chuck's stories are packed with details that will take readers of several generations back in time. They revisit favorite characters including the Kielbasy Kid, Certain Ethnic Guy, Ben Crazy, and many more.
OMW is getting our Primary Editorial Voice(tm) hands on a review copy of the book, and we'll talk about it more after we've read it. Even the above press release likely brings a flood of memories to adult readers in Northeast Ohio.
Plus, Chuck's been "good to us", even if he doesn't realize he has. We'll revisit this book later.
We'd also like to use the OMW Stage to plug a book written by a Friend of OMW.
McKeesport PA resident Jason Togyer not only dabbles in radio in the Pittsburgh market, he's also a noted expert on his suburban Pittsburgh hometown and the nearby "Mon-Yough" area. (Though we get the idea that folks there would bristle at the description of McKeesport as a "Pittsburgh suburb".)
Jason is the editor of
Tube City Online
, an extensive website solely devoted to that part of Western Pennsylvania - McKeesport and its nearby area. Your hometown should be covered so extensively online. There's a good reason McKeesport is known as "Tube City", a good reason you can find by going to Jason's site. (Hint: "think steel")
He's also the author of "For the Love of Murphy's: The Behind-The-Counter Story of a Great American Retailer",
a hardcover book
about one-time retailing great G.C. Murphy's, which was founded there. More from Jason himself
on his site
.
Though it's not radio related, it should hold interest for those in Northeast Ohio - we're pretty sure G.C. Murphy's made some inroads here back in the day.
And we're all about supporting our friends - Jason's a great guy, and the book is a wonderful gift for anyone interested in retailing's history, the building of a retail giant or just history in general.
While we're supporting Friends of OMW, you need a wall calendar, don't you? If you're a regular here, why haven't you already picked up
the 2009 Tower Site Calendar?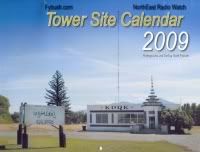 It's put together with care by Scott Fybush, a long-time personal and professional Friend of OMW who is well-known for his work as editor of
NorthEast Radio Watch
, numerous articles in radio trade magazines, and as editor of the radio listings site
100000watts.com
.
And that's not even half of what he does related to the radio industry.
The calendar features a number of full-color, professional pictures of broadcast transmitter sites all over the nation, each picture taken in person by Mr. Fybush.
(And most years, your Primary Editorial Voice[tm] is behind the scenes with him at a few of the chosen sites. We think we have two on the "We Were There" list for 2009. We said "behind the scenes" - we're not pictured, thankfully for Scott's camera lens.)
Quick - click on over
to the Fybush.com store
to order your 2009 Tower Site Calendar.
And no, Scott didn't pay us for this mention. He doesn't even know we're putting it up. It's heartfelt and free, like good things in life should be. And besides, "NERW" was one of the major inspirations for this Mighty Blog[tm]...