Syndicated morning talk show host Doug Stephan's camp has been touting his recent "road trip"...where the "Doug Stephan's Good Day" host broadcast his radio show from a number of his affiliates. It's something he's done annually, hoping to provide in-person support to the stations which carry his show.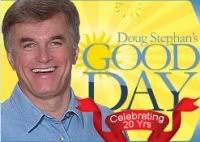 Only now, Stephan owns one of those stations.
The mention of his first stop - Tiffin talk outlet WTTF/1600 - reminded us to check, and sure enough, Tiffin Broadcasting, LLC officially owns the station as of October 15th,
according to the FCC
.
As we reported earlier, Tiffin Broadcasting itself is fully owned by...syndicated morning talk show host Doug Stephan.
We'll assume some other station business took place, aside from a radio broadcast, when Stephan dropped in on WTTF. But though he owns the place now, the voice (and owner) of "Good Day" won't be running it for some time.
That's because of what we also reported earlier. The sale from BAS Broadcasting (which picked up WTTF from Clear Channel) to Stephan's Tiffin Broadcasting includes a built-in reverse LMA. BAS will continue to operate the Tiffin AM station on Stephan's behalf for some time.
Eventually, say in a couple of years, Stephan reportedly plans to take over WTTF. We've heard that when he does so, he plans to operate it as a broadcast training facility for students at his alma mater, Tiffin's Heidelberg College (and we believe other schools).
The national host is quite active as a board member for the college, and has been involved in such things as Heidelberg's search for a new leader.
For the moment, though, he's an "absentee owner" of the station, with BAS Broadcasting continuing its operation of WTTF...