It's not even noon, and already, we've received about a half-dozen E-mails asking if Clear Channel talk WTAM/1100 Cleveland is planning any programming changes after re-adopting its former "3WE" identity today.
We don't blame you for being thrown for a temporary loop.
We haven't asked anyone at Oak Tree about it, because it would very much appear to be an April Fools' Day prank by Cleveland's "Big One".
WTAM has not only been playing 3WE jingles, its newscasters continue to refer to the station as "NewsRadio 1100 3WE"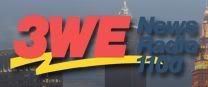 And the station's prank even made it to its website, where a 3WE logo now sits.
(The site itself continues to sit at
WTAM.com
- don't bother trying "3WE.com" or "WWWE.com", as they are standard domain parking/advertising collection pages not connected with the station.)
The Temporary 3WE is not the only station looking at the calendar and saying "Oh, it's April 1st!".
Down in Canton, OMW hears that the morning shows at NextMedia talk WHBC/1480 and AC WHBC-FM/94.1 "Mix 94.1" swapped places this morning, with "Fred and Pam" on the FM dial, and "Kathy and Rik" on the AM side.
The move has unnerved some long-time 1480 listeners...we've heard a number of complaint calls on midday host Ron Ponder's show, including one from a woman who is still fuming that she missed the "6 AM news and weather" on the AM station because "those unprofessional people" from the FM were on 1480 instead.
(We'll take a guess that the older woman is not exactly in WHBC-FM's target demographic.)
Ponder's listeners were also rattled by hearing the opening music of syndicated midday host Dennis Miller at the start of Ponder's mid-morning time slot. And no, they weren't happy. And we'll assume that the fact Ponder is answering his own phones, without a screener, isn't an April Fools' Day joke.
The folks on Market South may want to tread carefully with this April Fools' Day thing.
With AM 1480 being subject to a whole host of changes that have thrown curves at listeners in the past couple of years, it's probably best that afternoon drive host Sam Bourquin stay away from the April 1st pranks today.
After all, Bourquin himself occupies the afternoon drive slot because of what was definitely not an April Fools' Joke - the budget-related dismissal of previous host Jim Albright.
In the Akron market, a listener tells us that talk WHLO/640 mid-morning host Matt Patrick told listeners that he's retiring at the end of the year. (Isn't that a repeat April Fools' Joke for him? Oh, we remember...it was around the time that sister station WARF/1350 became a liberal talk station.)
Feel free to add word of other April Fools' Day pranks, either as comments here, or via E-mail...