Our apologies for the lengthy absence...aside from the Christmas-to-New Year's break we usually take, or an occasional planned hiatus, we're not usually gone that long.
But one of our regular phrases here is "Life Intervenes". (If someone uses that for a book or movie title, we want a cut!)
So, remember that if we don't update often enough for you...feel free to ask for a pro-rated adjustment to your subscription...
WVIZ'S PLANS:
Ever since the earlier news that the new WKYC/3 antenna tower was finally rising into the air, we've had one question.
We'll assume that the Gannett Cleveland NBC affiliate will wait until the national digital transition date of June 12th to light up the station's new digital facility on RF channel 17, even assuming the tower is completed well before then...and given that Trinity Broadcasting O&O WDLI/17 plans to shut off its analog signal later this week.
Assuming all continues as planned, WKYC will have a few weeks before June 12 to test the new RF 17 signal - with WDLI's analog signal out of the Canton suburb of Louisville gone after Thursday, its planned shutoff date.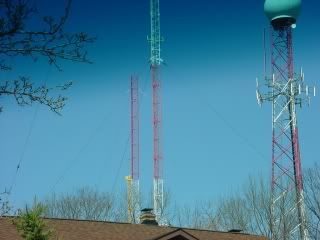 But wither WVIZ/25, the other future occupant of this tower rising at Broadview Road?
We have some news about that.
The ideastream PBS affiliate has filed
its latest digital transition report
, which takes into account the fact that the tower it will occupy is actually being constructed now. Quoting, complete with the capital letters found in FCC filings online:
-----
AS EXPLAINED IN IDEASTREAM'S REQUEST FOR ALTERNATIVE BUILDOUT, WVIZ'S FINAL AUTHORIZED DTV FACILITY IS TO BE LOCATED ON A NEW TOWER TO BE SHARED WITH STATION WKYC-DT. THE CONSTRUCTION OF THAT TOWER HAD BEEN UNEXPECTEDLY DELAYED (SEE, STA REQUEST OF WKYC-TV, INC., FCC FILE NO. BDSTA-20081201AWR AND MONTHLY FCC FORM 387 UPDATES FILED BY WKYC-TV, INC.).
WHILE COMPLETION OF A FINAL FACILITY TO MEET A FEBRUARY 17, 2009 DEADLINE WAS NOT POSSIBLE, IDEASTREAM UNDERSTANDS FROM WKYC-TV, INC. THAT THE NEW TOWER WILL BE COMPLETED WELL IN ADVANCE OF THE NEW JUNE 12, 2009 DEADLINE.
-----
And the filing has specific information about when a new antenna will be added...assuming construction continues unabated:
-----
THE ANTENNA WAS ORDERED FROM DIELECTRIC COMMUNICATIONS ON JUNE 24TH, 2008. IT HAS BEEN MANUFACTURED, AND IDEASTREAM WILL REQUEST DELIVERY BASED ON RECOMMENDATIONS FROM THE TOWER CREW. THE TOWER IS CURRENTLY BEING CONSTRUCTED, AND THE PREDICTION IS THAT THE ANTENNA WILL BE MOUNTED IN MID-MAY (WEATHER PERMITTING). ALL OTHER EQUIPMENT IS ON SITE.
-----
We don't know if WVIZ plans to light up the new digital facility shortly after the antenna is mounted, or if it'll wait until June 12.
The Cleveland PBS outlet has filed for an extension of the current 10kW STA facility from an antenna mounted on WKYC's auxiliary tower.
But the station notes in both filings that with the expected completion of the new WKYC/WVIZ digital tower, it's abandoning a third STA request that would have used 10kW from the side of the current WKYC analog 3 tower.
Thank you to one of our curious readers for the picture taken Sunday afternoon, showing guy wires now holding the under construction tower, and for the link to the WVIZ transition update filing.
(At this rate, the WKYC/WVIZ site will become the 2009 Radio/TV Tourist version of the WHOF/101.7 facility in Canton!)
This item will be reprinted in full on our new
Ohio Digital TV blog
...
SPEAKING OF HDTV:
With Time Warner Cable's massive Northeast Ohio wing steadily adding HD channels each month, we've stumbled upon a list of channels that'll be added in late May.
We already knew that HD versions of Bravo, CNBC, TLC, Animal Planet, ABC Family, ESPN News, and MLB Network are scheduled to light up in the TWC NEO system around April 29th.
Here's the latest list we found thanks to a reader:
HD Channels Available On or Around 5/26/09

Golf 439 Standard HD
National Geo 453 Must have Digital Basic Tier
Science 451 Channel carriage level may vary per area
FX 478 Standard HD
Fox News 485 Standard HD
CNN 483 Standard HD
We haven't run these by our contacts at Time Warner yet, but we're pretty sure the list is accurate...
FANTASY LAND, AM DIVISION:
OMW has confirmed through numerous sources that the "Class B Cleveland AM" facility advertised for sale with a Georgia-based broker is indeed Radio Advantage One gospel WABQ/1460 Painesville.
But our "Fantasy Land" comment in the header refers to the asking price.
OMW hears that WABQ owner Dale Edwards is looking to get anywhere from $1.5 million to $1.75 million for the Lake County station.
No, that's not a typo. The station is listing for just south of $2 million!
Consider a few facts.
The deep recession and poor economic conditions have shut off a large amount of bank lending, to do things such as, oh, we don't know, buy for sale radio stations.
Along with real estate prices, the prices of radio stations have dropped so precipitously that CBS Radio took under $20 million to get three large market FM stations - in Denver - off of their hands.
CBS and other operators have taken to swapping stations with other big companies, instead of selling them outright, because of this.
With these conditions still in play, who has a million-and-a-half, even, to buy a modest, outer suburban station that pretty much serves only one county well?
In other news, we're putting OMW on the market - asking price, $1 million. Mr. Edwards is about as likely to get $1.75 million for his station. And considering that WABQ's gospel format is not at all matched with its Lake County listening base, we may have more daily readers than WABQ has daily listeners.
That brings us to our other fact.
Under his D&E Communications subsidiary, Edwards sold the original home of WABQ, 1540 AM in Cleveland, to Good Karma Broadcasting's Craig Karmazin for...$2 million a few years ago.
Or, just $250,000 more than the asking price for the current incarnation of WABQ...now in the suburbs.
While 1460 has one advantage over what's now WWGK/1540 "KNR2" - full-time operation - that's basically worthless. 1460's 500 watt night authorization doesn't reach very far into Cuyahoga County...so outside of the heart of the station's signal area in Lake County, it's no more audible than daytime-only WWGK.
Speaking of WWGK, we'll have a bit of an update later this week...