So, we're a bit hungry, but are out of eggs...
THERE'S A REASON THEY'RE LOOKING:
Late last month, as we were swimming in news of Clear Channel's latest nationwide job cuts, we got a couple of interesting questions from readers.
They'd spotted a relatively new "help wanted" ad placed on various trade websites by Clear Channel's Cleveland cluster on Oak Tree Boulevard in suburban Independence:
News Anchor/Reporter - Cleveland, Ohio
Newsradio WTAM 1100, Cleveland, Ohio has a full time opportunity in news for an anchor/reporter. Strong writing and web skills required. If you're a passionate team player send, audio CD or MP3 newscast and resume to:
Darren Toms
Director of News Operations
Clear Channel Radio
6200 Oak Tree Boulevard, Suite 400
Independence, Ohio 44131
e-mail: dtoms (at) wtam.com
No phone calls please.
WTAM, Clear Channel Radio, is an Equal Opportunity Employer.
A regular OMW reader tells us the ad above was posted on AllAccess' Job Market section just before Oak Tree said goodbye to WTAM/1100 afternoon producers/co-hosts Marty "Big Daddy" Allen and Paul Rado, and to WMVX/106.5 "Mix 106.5" morning hosts Brian Fowler and Joe Cronauer.
The questions posed by our readers: Four out, one in at Oak Tree?
We found out relatively quickly, but didn't get a Round Tuit(tm) during the wave of Clear Channel job cuts...the job ad appeared because of someone leaving Oak Tree on their own.
WTAM anchor/reporter Ted Klopp is no longer in the building at Clear Channel's Cleveland cluster, but not due to a job cut.
We heard that he was leaving radio to work with a family business, news that was seemingly confirmed on WTAM's afternoon drive talk fest with Mike Trivisonno this past Friday.
Triv spent much of the afternoon needling Klopp for going to work for his wife's "rich family", and joked that as a veteran news reporter, Klopp was just drooling over the prospect of a big news story breaking before he walked out of the building at 5 PM that day.
We don't know if WTAM is still looking for a replacement for Ted, or if they'll shuffle the lineup and promote someone into his job.
Since the company's Cleveland newsroom is once again tasked with feeding a four-station "news hub", it may not be a surprise if they actually hire someone to directly replace him...or directly replace someone who would be moved up into that job.
And best of luck to Ted Klopp as he moves on to the next stage of his life...Beyond Radio...
LOOKING UP:
We couldn't resist the temptation to look again, so we drove the OMW Mobile to the Parma/Seven Hills border once again late Sunday...and checked out the progress of the under construction WKYC/WVIZ tower just over a month before the planned national digital TV transition date of June 12.
We were told by readers a couple of weeks ago that the tower appeared "about half finished".
We're not very good at doing "on the fly" estimates, but here are some pictures.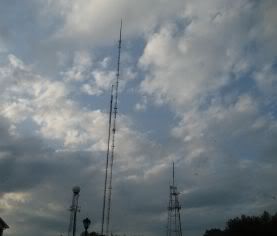 In our estimation, the new tower is now about two-thirds the way up the existing tower next to it.
While we're no experts at how towers are constructed (paging long-time friend, colleague and World Championship Tower Hunter Scott Fybush!), it would appear to us that the tower pictured could be done well before that June 12th deadline, which is the only date that really matters in this whole thing.
FCC-wise, NBC affiliate WKYC/3 has their backup plan...they can stay on digital RF channel 2 for a number of months, thanks to a Special Temporary Authority granted by the FCC, even after analog channel 3 signs off.
Similarly, PBS affiliate WVIZ/25 can camp out on its own temporary facility mounted to a nearby secondary tower at the WKYC site, as it signs off analog channel 25 in June.
But you can bet that both stations don't want to have to use those options.
Barring any unforeseen problems, our semi-educated guess is that the new facilities for both WKYC and WVIZ will be up and running at the transition.
Though WVIZ could well power up the new digital facility before June 12th, we believe WKYC is going to wait to make the RF 2 to RF 17 switch on that date...
AND ABOUT THAT TWC HD ITEM:
We'd like to conduct a little survey.
As we reported over the weekend, Time Warner Cable's Northeast Ohio system has started offering its newest wave of HDTV channels.
We also reported that the launch was linked to Switched Digital Video, a system being implemented in much of Time Warner Cable's local footprint. We heard from the company that some parts of the former Adelphia system based in Cleveland hadn't yet been converted, but would get the new channels when "SDV" was implemented.
Since Saturday, we've received a handful of reports that some areas are getting either no video on some channels, or picture breakups, or the like. (Here at OMW World Headquarters somewhere in the former Adelphia system, we're still trouble-free with all the new channels.)
So, either in comments to this item, or in E-mail, we'd like to hear from you if you're having problems with the new TWC HDTV channel offerings.
Make sure you tell us where you are, which part of the TWC system you're on (i.e. are you a former Adelphia customer, a former Comcast customer or a "legacy" Time Warner Cable customer), and what problems you're experiencing.
We'll pass it along to our contacts at the cable company, and we'll see if the information helps them iron out the bugs that may still be out there for some...