This one only made our radar when we tuned into SportsTime Ohio, and saw a Lake County Captains game being aired.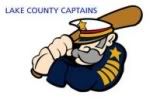 But sure enough, the Indians-owned cable/satellite regional sports channel
has just inked a five-game deal
with the team's single-A South Atlantic League affiliate just up I-90 in Eastlake. The games are being produced by Classic Teleproductions.
Tonight, the Captains' 7 PM game with the Delmarva Shorebirds - first in the series - is being broadcast live. The Captains and Shorebirds' second game in this series will air on delay Friday after the Cleveland Indians' game with the Washington Nationals. Three other Captains' games will be announced later in this second half of the season.
We remember the very early days of SportsTime Ohio - OK, so it was just over a year ago - when network officials seemed cool to telecasting minor league games, even those of the team's own affiliates.
With even a limited Captains schedule, can the double-A Eastern League Akron Aeros be next up? With the deal with the Captains and Classic Teleproductions, and Akron being just a little farther from Jacobs Field than Eastlake...it would make sense to us.
Oh, and we got a reminder of another ongoing news item while watching the Captains on STO.
As it turns out, WJW "FOX 8" has an advertising board out at Classic Park, the home of the Captains.
It's not a "Cleveland's own" style ad, though...it has the new FOX O&O/FOX News Channel style "FOX 8" logo, with the legend: "The Most Powerful Name In Local News".
This slogan, of course, is the slogan the company is reportedly planning to adopt at its local owned stations - following after the similar FNC slogan. As far as we know, neither the new logo or slogan has been used in outside advertising (or on-air, for that matter) elsewhere for WJW.
Is it "business as usual" for the local FOX O&O stations, like WJW, until a buyer is found for the ones that are up for sale? Would a new WJW owner keep this branding even if the station remains a FOX affiliate after a sale? Will the stations up on the block actually be sold?
Oh, we've hit this topic numerous times before, of course, in the items below. But we're just thinking out loud...