So, there's this basketball game on Thursday...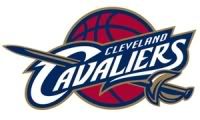 In case you've been under the proverbial rock since Saturday night, you know the NBA's Cleveland Cavaliers have made it into the NBA Finals.
They'll play San Antonio starting on Thursday night for a shot at giving Northeast Ohio its first major pro sports championship since roughly 1864.
(OK, it's 1964, but to much of the area, it feels 100 years longer.)
We suspect, at press time this Monday morning, that San Antonio will become roughly a second home for Cleveland TV and radio personalities for the next week or two.
The station which will actually carry the games, ABC affiliate WEWS/5, hasn't been shy about its Cavaliers Love, and is cashing in early with this series upcoming on its own airwaves.
Sunday, NewsChannel 5 sent reporter Carolina Leid on the first plane to San Antonio, where she filed a "local flavor" piece about the Home of the Spurs.
We got the idea from seeing her Sunday night that Ms. Leid will have an extended stay there, probably through the first two games at the visitor's site.
A scan through the other local channels, and we didn't spot any of the other stations sending staffers this early. Perhaps they looked at the NBA playoff calendar and realized that Game 1 of the NBA Finals is Thursday night.
We suspect we'll find out about radio plans soon enough, and expect both Clear Channel talk WTAM/1100, the Cavaliers flagship, and Good Karma sports WKNR/850, will send a bunch of folks to San Antonio some time between now and Thursday. For one, 'KNR middayer Tony Rizzo will likely be there for his "day/night" job at WJW FOX 8...
And speaking of WTAM, we'll echo what we heard FOX Sports Net Ohio's Jeff Phelps say on the network's game-less (blame TNT for that) post-game coverage of the Game 6 clincher early Sunday morning.
If anyone connected with the team over a long period of time deserves this, it's veteran Cavs radio broadcaster Joe Tait.
As Phelps noted, Mr. Tait has watched "an awful lot of bad basketball" since signing up as the local NBA team's voice not long after its conception in 1970.
Only the incredibly awful team ownership of Ted "Mr. Softball" Stepien drove Tait from Cleveland, in a 2 year-exile to Chicago and New York. The most inept owner in Cleveland sports history dumped Tait, called any team announcer "a dime a dozen", and then found out from whatever fans the team had left that Tait was more popular than he was.
After the old Richfield Coliseum was fumigated from the stench of Mr. Stepien's ownership, one of new owner Gordon Gund's first moves was to bring back Joe Tait, and he's been calling the team's games ever since.
And now, he has at least a chance of calling the team's first NBA Championship...and certainly, its first Finals Series.
Joe Tait is likely not THAT long from retirement...if only because he's over 70 and has called Cavs games for over 35 years.
Not that LeBron James and company need any more encouragement, but it'd be nice if they "won one for Joe Tait"...