With much fanfare, WAKS/96.5 "Kiss FM" programmer Dan Mason left the Clear Channel Cleveland top 40 outlet for the warmth of South Florida.

He left Northeast Ohio to take the program director's chair at sister top 40 station WHYI/100.7 "Y100" in Miami.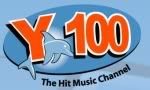 It seemed like the perfect match for one of America's fastest rising top 40 PDs, and one of the country's iconic stations in that format.
And it lasted, well, not very long.
Before you could say "Miami Vice", Mason was out at "Y100".
We're not very well tapped into the South Florida radio gossip mill, but whatever floated back up to Ohio gave us the impression that Mason and the station's upper management were not exactly on the same page. In fact, they didn't even appear to be reading the same book.
As we're proud of radio folks with Northeast Ohio ties, we're pleased to announce that Dan Mason has landed.
AllAccess reports that Mason has officially been named program director at Entercom top 40 KDND/107.9 Sacramento "The End".
Yes, THAT station...the one in some major hot, or maybe cold, water for a morning show water drinking contest which ended up in the death of listener Jennifer Strange, a story which gained worldwide attention.
Mason has been interim PD at "The End" since not long after former station manager Steven Weed was bounced, along with 9 other station employees with even the remotest connection to the "Hold Your Wee for a Wii" contest. Strange's family has filed a lawsuit against the station and the company.
So, it's an odd situation for the former "Kiss FM" programmer.
"The End" has been pretty successful. "The Morning Rave", the show now excised from the KDND lineup, was in the top 5 in Sacramento's morning drive race.
So Mason has to craft a way to hang onto success, at a station which has been a flashpoint of worldwide controversy - and all without a large chunk of the people who helped get that success.
The Prevaling Wisdom in radio-online-pundit land has been that KDND would scrub the top 40 format entirely, or move it to another Entercom frequency in that market under another name.
The hiring of Dan Mason signals one thing - Entercom wants to do top 40 in Sacramento in whatever form it takes. You don't hire a Dan Mason to flip to country.
Best of luck to you, Mr. Mason, former Clevelander...and a man with one of the more challenging jobs in radio right now...