NOTE TO KEN AND KITTY FANS:
We appreciate your reading this article, which has apparently been linked to their website.
However, Ohio Media Watch is not connected to either the show, or to the former radio home of the show. We are an independent online media publication that owns no broadcast facilities.
If you wish to reach Ken and Kitty, please hit the BACK button on your browser and contact them directly via their website.
Thank you!
--The Management
-------------
We've got some flotsam and jetsam. Just what IS "flotsam and jetsam" anyway?
KEN AND KITTY AND OUT:
AllAccess reports that after taking all the trouble to move them to a new radio home in Cincinnati, "Ken and Kitty" have departed now-Bonneville-ex-Entercom country WYGY/97.3 "The Wolf".

This item will be much longer than it should be. For one:
* Entercom got 97.3 in the first place by buying it from CBS Radio.
* Bonneville bought many Entercom stations, including 97.3.
* 97.3 used to be alt-rock WAQZ, back in the CBS Radio days.
* Susquehanna owned the original country outlet in Cincinnati with the WYGY calls.
* Cumulus bought Susquehanna
* Cumulus moved WYGY's country format and name from 96.5 to 94.9, eventually launching FM talk "SuperTalk FM 96.5".
* Entercom, the departing CBS Radio, Cumulus, the dog catcher, Citgo, Marathon, and the guy who runs the hot dog stand on Fountain Square swapped stations.
* Entercom picked up the WYGY calls and intellectual property to move it to 97.3 as young-skewing country "The Wolf" (a standard Entercom country brand).
* Throughout ALL of this, "Ken and Kitty" did the morning show on WYGY, wherever it was broadcasting, and whichever company owned it. And all of this happened within the year or so, most of it in the past few months. In fact, the picture/logo we used above was swiped off of the "96.5 The Star" website, which still exists to this day.
Where's the aspirin when you need it?
We're probably wrong about the order here, and maybe even some of the facts, but it's something close to that.
We don't hear any rumblings from Bonneville/Cincinnati, but we wonder if the young-skewing country format is long for 97.3? Blowing out your morning show, which would seem to be a successful one from here, is a sign of that sort of thing.
AllAccess quotes WYGY PD Marty Thompson as saying a "major announcement" about mornings on 97.3 is due "soon".
As for the show's part, they've posted a farewell message on
KenandKitty.com
:
Ken & Kitty fans, it is with a heavy heart that I have to let you know that the new company (Bonneville) that just purchased the Wolf Radio Station has decided not to make us a contract offer. :( I know that it is frustrating when radio stations make changes and don't announce it on the air, so I thought I'd post this message. We are trying to talk to other radio stations in town and I will let you know on this website as things progress!
Kitty and I want to thank all of you who have tolerated us and participated in our show the last 2 & 1/2 years here. You have made our jobs easy & so much fun stirring it up with us each morning. So again, THANK YOU!
Check back here next week for an update.
Respectfully Yours,
Ken
The AllAccess folks helpfully add that the pair is not wedded to country as a format, and will consider gigs in hot AC, top 40, rock and talk formats...
FIRST FULLTIME JOB:
This item out of Toledo actually has a Northeast Ohio connection.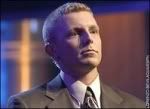 He's David Holmes, the Kent State University graduate who won ESPN's "Dream Job" competition, giving him a one-year job as a sports anchor on the cable network.
We didn't run into him much in our forays watching The Worldwide Leader of Sports, so we figure he spent most of his time on ESPNews.
(Or is that ESPNNews? Taking out the extra N makes it sound like a network for psychics.)
The Uniontown native
has been hired by Toledo ABC O&O WTVG/13
, where Toledo Blade media columnist Ron Musselman says Holmes will be a sports photographer/reporter and fill-in anchor. He replaces Hakem Dermish, who is headed for Washington DC NBC O&O WRC/4 in a similar role.
Holmes starts at WTVG on April 2nd.
Now, here's a question no one has answered for us yet. Quoting Mr. Musselman:
Holmes currently hosts an afternoon radio sports program near Canton.
Umm, IS there an "afternoon radio sports program near Canton"? What station is the Blade media writer talking about? We can't find it on a quick Google search, but maybe we're missing something...
Anyway, best of luck to Mr. Holmes.
We saw this article earlier in a Google News search, but
a note on the "Director's Cut" blog
by WKYC/3's Frank Macek reminded us to finally put it up. Macek says Holmes worked on the station's Cleveland Browns-related programming while an intern out of KSU...
AND WHILE WE'RE IN A TV MOOD:
And speaking of another WKYC-originated blog, one of our regular complaints may be close to being answered - soon.
We don't check in with WKYC/3 Akron/Canton bureau chief and "Akron/Canton News" anchor
Eric Mansfield's blog
nearly as often as we should. It is truly one of the better "behind the news" reports you're ever going to get.
And Eric brought up the topic we've posted on the Mighty Blog of Fun(tm) a dozen or so times - the lack of "Akron/Canton News" being offered to subscribers of the Time Warner Cable systems in Summit County formerly owned by Adelphia.
We're one of those subscribers here at OMW World Headquarters, of course, but we do get a fair amount of E-Mail asking about it.
Eric weighs in on the topic in a March 9th entry:
We're getting a good response from viewers about our return to cable channel 23 on Time Warner. The TWC folks tell me the Adelphia conversion is going very well and the folks in Northern Summit County who haven't been able to see the Akron-Canton News will have it very soon.
While "very soon" apparently isn't "March 27th", it's still good news for us.
Eric also retells the story of a technical glitch which put the "Akron/Canton News" on both Time Warner Cable 17 and its new (old) home of channel 23. Both channels displayed Mr. Mansfield's video fine, but the old channel had him overlayed upon audio of movie previews...