On the heels of items mentioned before, and sometimes more so...
WRQK INVADES AKRON?:
Clear Channel's new rocker WRQK/106.9 Canton has surely had at least some Akron listeners over the years, even with the presence of competing Rubber City rock WONE/97.5 and the station's general focus on Canton itself in the Cumulus years - give or take throwaway Akron mentions, like in the station's legal ID.
And with the WRQK signal recently juiced back up to normal with its new tower site, we've wondered if the dual-city-aware folks at Clear Channel's Freedom Avenue compound would start adding Akron to their domain at the newly-acquired "Rock 107".
Wonder no more.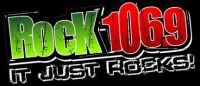 WRQK, which has redubbed itself "Rock 106.9" and changed its on-air imaging, is now much more conversant with that five letter "A word".
The first clue comes by visiting the newly-relaunched website at
WRQK.com
.
That address, for now, redirects to a second website:
AkronCantonRocks.com
.
We believe that is likely temporary, as even with the new imaging, the station is still promoting WRQK.com on the air. But it's an interesting choice of a URL, no?
Our second clue comes on the actual website itself, which proclaims at the top: "Rock 106.9 Canton and Akron's place to Rock".
No, we don't believe the Clear Channel-run WRQK is abandoning the Hall of Fame City for greater treasures up north. Even with a class B signal covering most of greater Akron, it's still basically a Canton station.
But we wouldn't be surprised if the station widened its vision north of the Akron/Canton Airport, and not just on its website. And given the dual-city operation of its new owner, it would make sense to do so.
By the way, like sister AC WHOF/101.7 "My 101.7"'s website had at launch, the new "Rock 106.9" site also has a "Listen Live" link - which is not functional at this time. One would assume that streaming will eventually come to both stations...
WHILE WE'RE IN CANTON:
Electronically, that is...
There's nothing official yet, but could NextMedia oldies WHBC/1480 be about ready to hire its first regular local talk show host?
We haven't heard if anyone else has auditioned, but of course, former WHBC-FM/94.1 "Mix 94.1" afternoon host Brady Russell warmed up the talk radio pipes a while back in an unusual Sunday night shift on the AM side of the WHBC ledger.
Maybe we better listen this weekend - to hear if Brady, or anyone else, does more weekend talk that may or may not be an audition for regular work. We don't know when that regular work would be on the schedule, or how it would affect anyone else currently on the air at 1480 - or even if it would. (Feel free to attach the "speculation" tag to this post.)
While we're talking about the WHBC Stations, we can't help but be moved by all the comments about engineer Bill Glasser, who retired from his post there earlier this week. To a person, our commenters and E-Mailers have painted a picture of Glasser as a professional, a mentor and teacher.
Hope retirement treats you well, Mr. Glasser...
ANOTHER REGULAR TOPIC:
We don't have much more to say about it, since we actually mentioned this weeks ago, but former WKNR/850 Cleveland host Kendall "The Big Sports Kahuna" Lewis is next up in the 9 AM-noon "Saturday Morning Sports Show" this week at the Good Karma sports station now known as "ESPN 850".
But since we're talking about 'KNR, a question. Is anyone else hearing very annoying electrical "pulsing" on the station, particularly when no audio is heard from host or caller for a couple of seconds?
Turn up the radio, and wait for a pause, and see if you hear it...we've heard it on a car radio, on every radio here in the OMW World Headquarters, and more, even within close range of the station's nighttime signal.
UPDATE 3/3/07 10:57 AM:
We thought it might be a nighttime-only problem, but we just heard it this Saturday morning.
Oh, and Good Karma has officially consolidated the websites of its two sports stations, merging WKNR content into WWGK/1540's site at
ESPNCleveland.com
.
It's clearly a stopgap until the station's promised new site is completed "in a few months", but
WKNR.com
now redirects to the other site...officially killing the former Salem-run site for the station once known as "SportsTalk 850"...
MORE ON WYTV:
A tip of the OMW hat to
the Youngstown Business Journal's Andrea Wood
, who recognizes witty writing when she reads it.
OK, so she recognizes what passes for it here, pointing out our "life boats" headline on the item directly below this one - the news that WYTV/33 news director Pat Livingston is out before the "33 News" ship sinks, heading to Toledo NBC affiliate WNWO/24 "NBC 24".
But Livingston tells the Business Journal that his move was in the works "long before" a new company named Parkin Broadcasting announced its planned takeover of the Youngstown ABC affiliate, which is set to happen later this year.
Already happening is the takeover of WKBN/27-WYFX "FOX 17/62" by New Vision Television, which took the keys of the CBS/FOX combo at midnight, March 1st.
And how's this for inspiring confidence in your future? Wood reports that the company basically told employees that if they showed up for work on March 1st, they were accepting the new company's employment terms. It's "like what we are doing or don't show up", we guess.
The Business Journal reports no changes to existing wages or benefits at WKBN/WYFX, but no seniority, either.
That plays into what will likely happen with WYTV, when Parkin takes over and likely implements a shared newsroom with WKBN/WYFX.
If this plays out like it has in other markets, expect the new operation to be mostly comprised of WKBN "27 First News" folks, with any WYTV newscasts done out of the WKBN/WYFX facilities.
But we wouldn't be surprised if New Vision takes over the contracts of at least some higher profile WYTV personalities, like the market's iconic weatherman Stan Boney.
The only problem with that?
We don't know if New Vision wants to spend money. And Stan's got to be making a decent chunk of change by this point in his lengthy career, even if it's by Youngstown market standards...