As it turns out, Tuesday was a very busy day...
JOY BENEDICT JUMPS TWO CHANNELS:
And exclusive, as far as we know...
OMW hears that WKYC/3 Akron Bureau reporter Joy Benedict is leaving to join ABC affiliate WEWS/5.
We hear she'll take the morning reporting position on the station's "Good Morning Cleveland", presumably as a direct replacement for now-former "NewsChannel 5" reporter Michelle Relerford. Benedict starts March 16th at Channel 5.
While she was at WKYC, Benedict not only reported Akron/Canton news for the local NBC affiliate, but was also the fill-in anchor for Eric Mansfield on the station's "Akron/Canton News", which airs weeknights on Time Warner Cable.
You know, the local news show on cable channel 23 in Akron/Canton, and some day, maybe if we're good and beg and scream loud enough, on the Summit County part of former Adelphia system now run by Time Warner.
(Sorry, old habits. But really, TWC and WKYC folks, we could have built our own TV news studio by hand, in the time it's taken you guys to get together on this...)
TWO SIGHTINGS OUT OF CANTON:
Well, one far away and one near, of personalities who used to air in the Hall of Fame City.
AllAccess reports that former AC WHBC-FM/94.1 Canton "Mix 94.1" afternoon personality Steve Rockford has landed at 106.9.
No, not Clear Channel rock WRQK "Rock 106.9" in Canton, but as program director of hot AC outlet WKZA/106.9 in Lakewood NY, near Jamestown.

We could have also spooked you out another way and said "at "Kiss FM", because the station carries that slogan also used by many Clear Channel top 40 outlets, including Cleveland-based WAKS/96.5.
But alas, it's owned by a company called Cross Country Communications. We'll assume that's a locally-owned outfit, despite the "outsized" name.
In case you're not sure where WKZA is, it serves extreme southern New York State, and
the station's signal also covers a chunk of northwestern Pennsylvania
. Not a heavily populated chunk, but a chunk nonetheless. If you head up to the Peak n' Peak ski resort, you'll hear the station there.
And closer to home, a denizen of Freedom Avenue lands on Smyth Avenue, as former WKDD/98.1 swing/weekend/traffic guy Rob Mackenzie lands at D.A. Peterson top 40 WZKL/92.5 Alliance for overnights and weekends...
WHK'S 85TH ANNIVERSARY:
Salem Cleveland talk outlet WHK/1420 has begun trumpeting the station's 85th anniversary on the air.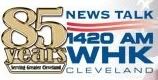 We're not all that surprised, as we gave you the heads up a while ago of
the upcoming production of an 85th Anniversary on-air special
, which we assume will air sometime this month.
But along with frequent on-air mentions, we're told that WHK now has
an anniversary timeline
up on the station's website.
The folks at Salem don't even shy away from some of the more controversial history of the station, with a mention of the one and only Gary Dee (and a newspaper wedding announcement picture with Dee and former wife Liz Richards) gracing the 70's entry.
Of course, it's kind of hard to produce anything even remotely resembling a WHK timeline without a nod to one of its signature personalities of the past.
And they also nod to the popular "Voice of the Fan" sports format of the mid-90's.
We're told that former WHK sports talk host Les Levine, who hosts FOX Sports Net Ohio's "Cleveland Rants" and has done occasional fill-in for Good Karma sports WKNR/850, has voiced a liner or two to mark WHK's anniversary...
WHILE WE'RE SEGUEING:
...between WHK and WKNR, we're told by an OMW reader that WHK is running promos for the "Inside the Great Outdoors" weekend outdoor sports show, which has run for some time on the station once known as "SportsTalk 850".
The reader suspects the outdoors show is paying its way onto WHK, which sells block time on weekends for local programming...and WHK, of course, is no longer co-owned with WKNR. The time given, at least to us, is Saturdays from 2-4 PM.
"Inside the Great Outdoors" disappeared from WKNR a while back, round about the time that Premiere's "Costas on the Radio" got nudged into a Sunday morning time slot...in the station's recent schedule shuffle...
JOHN TESH CROSSES THE STREET IN LIMA:
OK, even programmer Dan Baisden would have to admit that syndicated host John Tesh has probably never visited Lima, Ohio, let alone actually "crossed the street" there.
But Baisden tells OMW that Tesh's radio show is moving - from Clear Channel AC outlet WMLX/103.3 St. Mary's OH to Maverick Media's WDOH/107.1 Delphos OH, which he programs. (For those not Western Ohio Conversant, both cities are near Lima and serve the Lima market.)
Tesh's release says he's "privileged" to join WDOH, and touts the radio station's "great playlist".
What, he's gonna say anything bad about a new affiliate?
Just once, we'd like a syndicated host's boilerplate quote about a new affiliate to say something like "You know, this station really stinks, but they paid us enough money, so what the heck! It beats not being on at all in, umm, what market is this again?"
Our guess is if you put "Lima" in front of Tesh and he wasn't aware the text was about a new affiliate, he'd pronounce it like the city in Peru.
(This is just a general comment about network/syndicated show press releases, and not the station in question...)
WDOH starts Tesh next Monday, from 7 PM-12 midnight...