We're clearing out the decks for the weekend...with some updates, some new stuff (mostly from elsewhere), and some thoughts...
"SISSY'S" START:
As it turns out, the Stefani Schaefer Era (round 2) on WJW/8's "FOX 8 News in the Morning" hasn't officially started yet.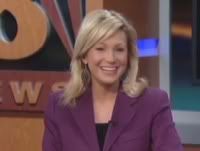 The former WJW and WEWS anchor returned home to Cleveland after leaving NBC Universal's talk show for company O&O's, "iVillage Live". And her return was announced on the FOX 8 morning show last week, complete with an appearance by her in studio.
We don't really watch the TV morning shows, but Schaefer - known by her childhood nickname "Sissy" on the "iVillage Live" show - apparently just made the one day appearance a week ago Wednesday.
We know that because "FOX 8" has been frequently promoting her official start date on the air. Schaefer will join the "FOX 8 in the Morning" team
starting Monday
.
As we reported earlier, she'll only be on the 7-9 AM part of the show, the part that competes against the network morning shows like NBC's "Today" and ABC's "Good Morning America". Oh, and whatever CBS is doing in that time slot these days...
NO BROWNS HD, AGAIN:
A reader reminds us of a sad fact we already know. If you're a Cleveland Browns fan and an HDTV owner, prepare to squint at a really, really fuzzy picture.
CBS, the carrier of games involving AFC teams, will once again
not carry the Browns' contest with the Oakland Raiders in the HD format
(Sunday, 4 PM, WOIO/19 in Cleveland).
And furthermore, the Browns game the following week against the Baltimore Ravens will also be Standard Definition Only.
This week's Browns game at Oakland is the ONLY CBS game not in HDTV, and likely the only NFL game this entire week not to get the HDTV format.
We've detailed the problem before.
CBS has said it would carry "up to 6" Sunday games in HD format, and Browns/Raiders happens to be Game 7 this week.
As we've said, this will all clear up next season, with every CBS game broadcast in HD.
In our "sports media competitive balance" department: Sunday afternoon's Cleveland Indians game with the Oakland A's will most assuredly be in HD, via Indians over-air television flagship WKYC/3 in Cleveland. (As per usual, we're pretty sure the team's TV network affiliates outside of Cleveland won't broadcast the game in HD.)
And the local MLB team could very well clinch an American League Central Division title that very day...
SPORTS LEAP:
OK, more sports stuff, but this is one we teased a ways back.
A well-known local sports radio caller has parlayed his training and education into a career - as a TV sportscaster.
He's Anthony Lima, who's now
the weekend sportscaster
for Parkersburg/Marietta NBC affiliate WTAP/15.
And his linked bio tells interested WTAP viewers the "rest of the story", and how you may know him:
Anthony has always had a passion for talking sports in one medium or another since the age of 15, when he first became a Cleveland radio celebrity under the moniker "SportsBoy Tony."
Yep. "SportsBoy Tony", who was calling WKNR/850 "ESPN 850" mid-morning host Tony Rizzo's old show on the former WHK/1420 sports format as a teenager in the mid-90's, is now a member of the TV sports fraternity along with Rizz, the lead sports anchor at WJW "FOX 8".
Well, OK, he's in a very small market, doing weekends...but everyone's gotta start somewhere!
Tony, er, Anthony, tells OMW:
It's truly a rags to rags story...young sportstalk show caller becomes weekend sports anchor in the one of the smallest markets in the country...and that's including a stop at Syracuse University...
Heh.
Actually, young Mr. Lima is modest about the educational part of his resume.
He picked up a master's degree at Syracuse, that communications school powerhouse responsible for starting sportscasters like Bob Costas and Marv Albert. If you're plotting a career in sports media, Syracuse is stop number one. He's also holding a degree from THE Ohio State University.
It's quite a different route from "caller to pro" than the one taken by a certain afternoon talk radio host who launched his sports radio post-caller career reading sports headlines out of the paper on an FM station.
So, best of luck to you, NoLongerSportsBoy Tony....may we proudly say, down the road, that we "knew you when"...