We note the passing of two names with history in Northeast Ohio media.
REX HUMBARD DIES:
As far as we know, Rex Humbard hasn't been seen on local TV for many years, and he moved to Florida years ago.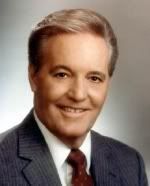 But Humbard turned Northeast Ohio into the epicenter of televangelism, as one magazine noted, bringing televised evangelism "to Main Street" from its center in suburban Akron.
The New York Times
notes the height of his worldwide television presence:
At its peak, in 1977-8, the program leased time on 378 television stations in the United States and Canada and broadcast on about 1,200 more in other countries. Mr. Humbard claimed that "Cathedral of Tomorrow" was on more television stations than any other program in the nation.
Humbard was a massive presence even locally, even to those who did not tune into his long-running TV programs. Shoppers at State Road Shopping Center in Cuyahoga Falls could not miss that white domed Cathedral of Tomorrow across the street, and eventually, the concrete tower Rex built next door.
That tower was destined to be a monument to the heavens, almost literally. It would have held a revolving restaurant at the top, providing expansive views of the region.
But more importantly to this group, it would have held the transmission tower for what was then known as WCOT-TV 55 - the call letters standing, of course, for Humbard's church below.
As far as we know, WCOT never made the air, and we're not even sure it got any construction permit. The unfinished tower remains today, providing a home for antennas for cellular phone service.
Rex Humbard moved his operation to Florida, and sold both the Cathedral of Tomorrow and his television studios to fellow televangelist Ernest Angley in the mid-1990's. (The tower eventually went to the family which owns Krieger's Farm Market on nearby Graham Road.)
After converting the Cathedral of Tomorrow to the new location for his Grace Cathedral, Angley got Channel 55 on the air as independent WBNX-TV Akron. The transmitter site for WBNX was originally in Brecksville, but moved into the Parma antenna farm to its current location. WBNX is, of course, today's CW Network affiliate for the Cleveland market.
WBNX had a ready-made TV studio operation, of course, because the same building which houses the Cathedral Buffet was well-equipped for Humbard's own TV empire.
Humbard continued his TV ministry from Florida, going into "semi-retirement" from it in 1999.
Rex Humbard died at the age of 88 on Friday, of natural causes...
"HOOLIHAN'S" WIFE PASSES ON:
The second death we mark today is of someone who wasn't as well known in front of the camera in Northeast Ohio - but you surely know her husband.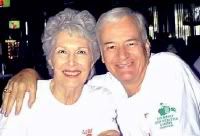 OMW hears that Barbara Wells, wife of former WJW/8 personality Bob Wells, passed away on August 28th in Florida, after a lengthy bout with cancer.
Mrs. Wells' husband was a local TV icon - "Hoolihan" of Channel 8's "Hoolihan and Big Chuck" show. The show survived in a new form through recent years at today's "FOX 8" as "Big Chuck and Lil' John", until the recent retirement of "Big Chuck" Schodowski. Bob Wells was also a weatherman at Channel 8, then the area's long-running CBS affiliate, known as "Hoolihan the Weatherman".
The Wells family moved to Florida, after Bob had a stint managing Christian station WSUM (now WCCD)/1000 Parma.
But it's not just her more well-known husband with an extensive media background.
Barbara Wells was, we're told, one of the first female disk jockeys at then-WJW/850 in Cleveland, and also was on air at WTAN in Clearwater FL. She was very active in both community and professional theater, modeled on TV's Home Shopping Network, and did radio and TV commercials.
And like her husband, she was quite active in the church community.
An excellent look into their history and family life can be found in
this article on the Cleveland Seniors website
, where we also found the photo we've used here.
Barbara Wells passed away at the age of 72...