As we mercifully bring this week to an end in one day...
MARK AND ABBY:
In the first of two "heads up" reminders from WKYC/3 senior director Frank Macek's
"Director's Cut" blog
- the station's new morning "Channel 3 News Today" team launched this morning.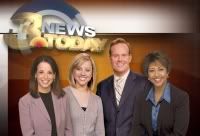 The most significant changes involve the previously reported move of chief meteorologist Mark Nolan to the co-host spot of the show.
And he'll be joined by new hire Abby Ham - recently of Gannett sister NBC affiliate WBIR/10 in Knoxville TN. Channel 3 mainstays Barbara Gauthier and meteorologist Hollie Strano round out the four person show.
Ms. Ham's departure created quite a stir in her hometown, according to
an article in the Knoxville News
:
When news broke on Oct. 26 that Ham was leaving, it attracted huge interest at knoxnews.com, generating more than 12,500 page views in one day. The story was by far the most popular view on the Web site, even outshining a story about Kenny Chesney and the University of Tennessee football team.
During her time here, Ham also emerged as a local Internet celebrity, with several area bloggers commenting on her and keeping track of her on-screen work.
Well, welcome to Cleveland, Abby.
As far as that last part goes, we're basically it in this town, though there are message boards and the like seemingly dedicated to the "sizing up" of TV anchors here, especially women. Ask Hollie about that.
(We're a bit more elegant than that here at OMW.)
For those drool-guys on the message boards: Relax. The article linked above says Abby is engaged to be married, and she'll tie the knot in Knoxville in 2008 - where she says she'll also return for holidays and the like.
Meanwhile, those who aren't watching Ms. Ham will be watching Mark Nolan's transition from tracking storms to waking viewers as the show's other co-host...
AND ANOTHER WKYC THING:
Mr. Macek's blog also reports that NBC Nightly News anchor Brian Williams will be anchoring the program live from Cleveland on Monday, November 12th:
We understand Brian will be featuring stories on some local veterans who have returned home from Iraq. As you know, Sunday is Veterans Day.
Frank also mentions that the nation will see Cleveland in HD. We assume the show will be done from the WKYC Digital Broadcast Center on Lakeside, which is well equipped, but we didn't know the HD-produced "Nightly News" could use the format in remote broadcasts.
Since Mr. Macek promises more blogging related to the national broadcast, we're sure those details will be filled in...
A NAME FROM CLEVELAND RADIO PAST:
When we read about the death of iconic Chicago rock radio personality Jimmy P. Stagg the other day, we noted it, but thought not much more about it.
But as it turns out, Stagg launched his way into Windy City radio from right here in Northeast Ohio, as two regular OMW readers "who would know" tell us.
Before going west, we're told Mr. Stagg was one of a number of big named, big voiced on-air personalities at Cleveland's KYW/1100 in the mid-1960's. Many people in that generation listened to him along with other local radio stars like Jim Runyon and Jerry G., before Stagg went off to Chicago and popular stations like WCFL/1000 and WMAQ/670.
For anyone keeping track from here, WCFL is today's ESPN-owned WMVP/1000 "ESPN Radio 1000", and WMAQ's old frequency hosts CBS Radio sports outlet WSCR "The Score".
And of course, KYW is now today's Clear Channel talk WTAM/1100...but you knew that, didn't you?