One of the true legends in Cleveland sports media has passed away.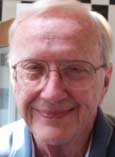 Gib Shanley, who was the long-time sports director at Scripps ABC affiliate WEWS/5, has died at the age of 76.
"NewsChannel 5" reports
that Shanley died of "complications from pneumonia". The Plain Dealer's now-former veteran sportswriter, Bob Dolgan, has a very extensive look at Gib Shanley's life and career
here
.
In addition to his work on Channel 5, and his role as the first sports anchor on WUAB/43's then-new 10 PM news program "The 10 O'Clock News", Gib is also remembered by many as long-time radio voice of the NFL's Cleveland Browns, from 1961 to 1984. He called the last major pro sports championship in Cleveland, with the Browns in 1964.
He's also remembered even nationwide for an on-air incident where he burned an Iranian flag on the air during the heated Iranian hostage crisis in 1979.
That, and many other memories, are also detailed in
a Cleveland Seniors website profile of Shanley
, done a couple or three years ago. The image above is linked from their profile.
In addition to coming back to WEWS for a stint doing weekend sports anchor work some years ago, Mr. Shanley also has been seen recently doing commentaries on the station's weekend sportscasts...