Regular readers may have caught on that we picked up one of those Radio Shack Accurian HD Radio receivers recently. Total cost "after rebate": $99, otherwise known as The Price Point We Wouldn't Have Bought This Above.
(It's now listed at
RadioShack.com
at $199. Our pricing was during the Christmas shopping season.)
We've always been technology freaks here at OMW, so here we go again!
And we've picked up two new HD Radio signals on the air in Northeast Ohio. One was expected, and one was a surprise.
From the OMW World Headquarters, we were able to string up the Accurian's "long" dipole antenna into just the right position on our second floor window to get the brand new HD Radio signal out of Clear Channel's new Canton market rock addition, WRQK/106.9 "Rock 107", which just went live with HD on Saturday afternoon.
No, the "ROC" isn't a format indication, it's a digital signal equalizer setting meant for rock music that we selected manually.
Unfortunately, we haven't been able to squeeze an IBOC carrier out of sister AC station WHOF/101.7.
But that's not a surprise to us.
The full-market Cleveland FMs out of the Parma/Brecksville antenna farm light up the HD side of things with no problem here, and we have only slightly more difficulty picking up Elyria-Lorain Broadcasting smooth jazz WNWV/107.3 Lorain. (The same antenna positioning which gets us WRQK in HD also picks up WNWV.)
But slightly more distant or less powerful signals, that come in fine in analog, don't decode in HD.
For example, we can easily pick up Youngstown market Cumulus country blowtorch WQXK/105.1 Salem in analog, but don't get an HD signal from it - and we know from people in the market that Cumulus has at least K105 and sister classic rock WYFM/102.9 "Y103" in HD Radio now.
And Cleveland Heights-licensed WXRK/92.3, CBS radio's alt-rock/talk outlet for the Cleveland market, is also not putting out enough digital power to decode in HD on our radio. Some of that may be the proximity of Alliance-based top 40 outlet WZKL/92.5 "Q92" on the radio spectrum.
We'll list all the HD stations we know about in the area at the end of this item.
The "surprise" is on the AM dial, where until now we've only picked up Clear Channel talk WTAM/1100 doing HD Radio.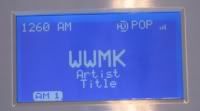 The relative newcomer would be ABC-owned WWMK/1260 "Radio Disney". Like WRQK's picture above, "POP" doesn't indicate an automatic format detection, but a processing setting we manually set.
The 1260 signal is not nearly the equivalent of WTAM's 50,000 watts, so we have to move the AM loop around to pick up WWMK in HD Radio...but here it is.
Is it worth the $99 we spent? Or, the $199 the radio is being sold for now?
Well, it's not a bad table radio, at least at the price we paid.
It's bit pricey compared to a similar analog unit (especially at $199!), but it served a need for us, and we can treat the HD as a "bonus". The analog performance is pretty good, and the FM signal separation, especially, is excellent. It has no trouble, for example, separating several stations squeezed close together in the non-commercial band from various parts of Northeast Ohio.
HD Radio itself is not quite ready for prime time.
AM stations are not able to use the IBOC/digital carrier after dark, due to interference issues involving AM's notorious skywave...the same thing that carries stations like WTAM after dark into far away places like North Carolina.
The AM HD Radio signal really punches up music, making it an amazing switch for the Radio Disney folks.
But on talk, as we've heard on WTAM, the codec involved has a noticeable "S" hiss sound (it's called "sibilence") that makes it sound like most of the announcers have a very small hole in their teeth when they say "S" sounds. We fiddle with the digital signal processing on the Accurian to try to alleviate this, and the "ROCK" setting seems to help the most.
On the FM side, it sounds better than analog FM, but not nearly as markedly as music sounds better on the AM side.
And of course, there are the HD "subchannels" a number of local stations have put on the digital radio dial. (HD Radio on the AM dial does not have enough room for subchannels.) Several of the Cleveland FM HD Radio outlets have subchannels, which we'll include on our list below.
The biggest beneficiary of the sound quality is the classical music format.
With the HD signal dropping the noise floor to almost imperceptible levels, local classical/NPR outlet WKSU/89.7 Kent sounds amazing in HD Radio. We also believe they are using the entire bandwidth allocated to the signal, as the station doesn't have any subchannels.
Speech also sounds better on WKSU, though satellite-delivered programs have their own built-in limitations...including the "cascading codec" syndrome caused by using compressed audio delivery systems to satellite uplinks.
The biggest problems we see with HD Radio right now? There are too many caveats.
There's the "no AM HD in the dark" thing. There's the fact that a perfectly serviceable analog signal won't convert in HD on the edge of a station's fully expected listening area - at least indoors, at any rate.
There's the fact that HD subchannels (HD-2, and even HD-3 in some markets) are directly linked to their host stations.
That technical reason means tuning directly to an HD-2 or HD-3 station requires about 3 seconds of "linking" (think Internet radio "buffering") before the station airs. On the main channel, the analog audio is heard first and the HD audio mixes in to replace analog, but of course, there's no "analog" backup to the HD-2/3 stations' audio.
Is it something someone other than radio enthusiasts and gadget freaks would buy at $200-300? Probably not. HD Radio may only catch on when all decent radios have it built in, like, say, stereo. If that ever happens.
But...we're having fun playing with it.
Here's your list of Northeast Ohio HD Radio stations.
If we're missing any, please let us know!
Some of this came from
the official list of HD Radio outlets in Ohio
by Ibiquity, the company behind HD Radio, and some came from our own listening. Some of the FMs without subchannels plan to add them in the near future...
--------------
FM
89.7 - WKSU Kent (classical/NPR, no subchannel)
92.3 - WXRK Cleveland Heights (alt-rock/talk, HD2: rock/rap hybrid)
93.3 - WNCD Youngstown (rock, no subchannel)
96.5 - WAKS Akron (top 40, HD2: new hits)
98.5 - WNCX Cleveland (classic rock, HD2: Spanish CHR)
99.5 - WGAR Cleveland (country, HD2: classic country)
100.7 - WMMS Cleveland (rock, HD2: classic alternative)
101.1 - WHOT Youngstown (top 40, no subchannel)
101.7 - WHOF North Canton (AC, no subchannel)
102.9 - WYFM Sharon PA (classic rock, no subchannel)
104.1 - WQAL Cleveland (hot AC, HD2: "My HD")
104.9 - WCLV Lorain (classical, no subchannel)
105.1 - WQXK Salem (country, no subchannel)
105.7 - WMJI Cleveland (oldies, HD2: 50s/60s oldies)
106.5 - WMVX Cleveland (hot AC, HD2: adult alternative "The Lake")
106.9 - WRQK Canton (rock, no subchannel)
107.3 - WNWV Elyria (smooth jazz, no subchannel)
AM
1100 - WTAM Cleveland
1260 - WWMK Cleveland