And at least part of this multi-headed hydra of an update is under the sub-heading "overkill"...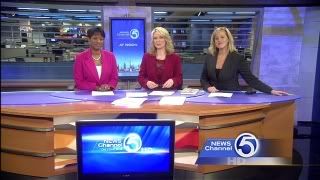 WEWS HD LAUNCH:
In case you haven't figured out by the "HD" letters on the logo...or the roughly 200 mentions in the past day...or the 30th play of Angie Lau's "Buying an HDTV" piece...
Yes, Cleveland ABC affiliate WEWS/5 has officially converted its "NewsChannel 5" newscasts to the HDTV format.
The proverbial "switch" was pulled at the start of Sunday's 11 PM newscast. That broadcast opened up with a message from WEWS general manager John Butte. (In case you missed it, it was roughly similar to the item posted on NewsNet5.com, which we linked in an earlier item.)
So far, as far as "out-of-studio" video, WEWS appears to be taking a similar route as NBC affiliate WKYC/3.
All live local video is shot in 16x9 SD, with what appears to be most taped local video in the same format. At least some video appears to have been stretched from 4x3 to 16x9.
Any video that's not 16x9, local or national, gets the "Circle 5 HD" sidebars. (And unlike either WKYC, or FOX's WJW/8, WEWS's sidebars include an automatic legal ID for the station...)
There was a glitch or two involving what appears to be the overlaid time/temperature bug, which disappeared from the HD feed of NewsChannel 5 at Noon - while remaining on the SD version. We've seen similar glitches, mostly involving the lower half of the graphics display, even through Monday's 11 PM newscast.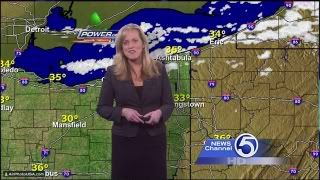 And unlike WKYC or WJW, WEWS is using a sharper graphics feed for its "Power of 5" weather radar. Last time we checked the station's competitors, both appeared to be using upconverted SD weather radar displays.
Whether this helps viewers see more storm detail remains to be seen... but WJW's venerable "StormFOX" radar is particularly long-in-the-tooth by comparison.
Then again, Mark Johnson and Susanne Horgan (pictured) are not Dick Goddard...
FOOTBALL OVERKILL:
OK, so we don't blame Good Karma Broadcasting-run sports outlet WKNR/850 Cleveland for running 24 hours of Ohio State pregame coverage.
Overkill coverage of "The Big Game" is standard issue for any good major market sports station, and it's the kind of thing WKNR never did in the Salem days. Oh, and 'KNR IS the OSU Cleveland market affiliate...and they had no idea the Buckeyes would get obliterated by the Gators.
We're just mentioning this because part of that coverage included Tony Rizzo, the WJW/8 sports anchor. The FOX 8 personality hosted 1-3 PM on Monday, a time slot normally occupied by Premiere's Jim Rome.
It's Rizzo's first appearance as a host on WKNR, and we keep hearing rumors that it definitely won't be his last.
Here's a new thought - could Good Karma's Craig Karmazin be interested in pairing up hosts?
We've heard rumblings that a Tony Rizzo-Kenny Roda pairing would be something of interest, which made hearing Roda and Rizzo together Monday all the more interesting to us.
We put this just above "minor buzz" on the rumor mill. We have no indication that such a pairing would happen...and if it was even on the Good Karma Radar, it couldn't happen in afternoon drive, because Rizzo is not leaving his primary job at FOX 8.
Could Rizzo be headed for 9-noon weekdays, with current mid-morning host Greg Brinda paired up with him? Or does Brinda move to morning drive? And how do ESPN Radio's "Mike and Mike" figure into this?
We haven't heard much more lately about this, but we would be nearly shocked if Rizzo was not on the WKNR airwaves in some capacity, on a daily basis, by the end of this month...if not sooner.
ROBIN'S ON:
We almost hesitate to mention this, but...
Former WJW/8 news anchor Robin Swoboda's show "That's Life" made its debut Monday on her former and current station.
We won't say much more about it, since A) we don't think it's fair, since we haven't seen it, B) the mere mention of Robin Swoboda seems to cause fits in the comments on this blog and C) we're not in the target audience for it - your Primary Editorial Voice(tm) is a male.
But we will pass along a link to
Julie Washington's article on "That's Life"
in Monday's Cleveland Plain Dealer, and note that the show is being broadcast in HDTV...
MORE COLUMBUS CHANGES:
On the heels of North American Broadcasting's WTDA/103.9 flipping to talk and sports as "Talk FM", we hear there are other format changes in Columbus.
Long-time CBS Radio country outlet WHOK/95.5 is not only no longer being run by CBS - it's got a new name.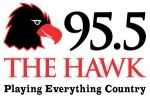 New owner Wilks Broadcasting has dumped the long-time "K95.5" name for a new name - "95.5 The Hawk", saying it plays "everything country".
Meanwhile, OMW ears in the Columbus market tell us Wilks has pulled the plug on the alt-rock format on WAZU/107.1, flipping it to a new-leaning country format as "Wink 107.1".
(We can't remember if syndicated Cleveland voice and WXRK/92.3-based Shane "Rover" French's show was still running on the station now formerly known as "The Big Wazoo", but it's surely gone with a new format.)
We can't confirm either change, but the new logo for "The Hawk" is up on
the WHOK website
, and WAZU's
"Big Wazoo" site
is now entirely blank...