UPDATE 1/7/07 1:25 PM:
WEWS
confirms the HD newscast launch
we've been reporting here for some time, starting tonight. (We hear that the 6 PM newscast may be the first in HD.)
From the item on NewsNet5.com:
On Sunday night, Jan. 7, legendary WEWS NewsChannel5 makes Cleveland the nation's most advanced high-definition (HD) television city in America.
Cleveland will be the first city where its top three television stations broadcast their local news in HD. NewsChannel5's launch will include exclusively HD weather and expand the station's HD programming to the most available on Cleveland television.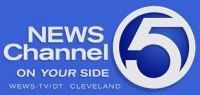 The station has also unveiled the new logo we spotted in the original report below this update.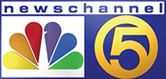 OMW regular reader/tipster Nathan Obral points out that it's a slight, more angular retake on the original "Circle 5", which is in use (pictured at right) at NBC affiliate WPTV/5 in West Palm Beach FL.
To us, the new WEWS logo almost conjures up images of the "ABC Circle 7" logo used at many ABC-owned major market stations.
The original item is below...
-----------------
One day before Cleveland ABC affiliate WEWS/5 is reportedly set to launch its local news in HDTV, we believe a new graphic slipped through the cracks.
On Saturday night's "NewsChannel 5 at 11", viewers saw a different graphic for the "Power of 5" doppler radar during meteorologist Jason Nicholas' weather segment.
And...hmm.
Is that the old, familiar "Circle 5" we see in the "Power of 5 Doppler Network HD" logo up at the left hand side, right above Nicholas' head?
How about that!
WEWS has been using the current NewsChannel 5 logo - seen at the bottom right - for what, about two or three years now? Most adult Northeast Ohioans who grew up with the station probably still remember the station's Circle 5 logo.
The "back to the future" logo will take some time to get used to. In the graphic we see above, it seems a bit retro. But logo-wise, the past may be the future for WEWS...