We're doing a midweek cleanup, and we're adding some new items as well...
NO 101.7 YET:
No, Clear Channel's new Canton radio station hasn't hit the airwaves at 101.7 FM as of this writing.
But OMW hears from an eyewitness that an FM antenna was indeed placed atop the tower at 22nd and Whipple NW in Canton late Wednesday afternoon, where the station - and soon-to-be-sister station WRQK/106.9 - will broadcast from.
That eyewitness is none other than John Amrhein, an OMW reader with a pretty good perch - just a few hundred feet away from the tower at the studios of Melodynamic talk/religious outlet WCER/900 Canton, where he's operations manager.
We don't know if the antenna belonged to WRQK or to the new WHOF/101.7. Remember, WRQK will be on the tower as well, and was the original reason the tower was envisioned.
But since we brought up the Cumulus rock outlet that's being dealt to Clear Channel in that two-station swap...we hear that "Rock 107" will be under Clear Channel's domain "sooner rather than later" under a short-term LMA, until the sale is approved.
That could mean sometime mid-to-late this month...but we've been burned so many times on guessing the WRQK transfer to Clear Channel that we've lined up a gigantic grain of salt.
At least this time, the sale/swap is officially recorded, so no one thinks we're nuts...
WEWS HD:
Just a brief note - we've done the rounds of the various HDTV enthusiast message boards, and it appears we're not the only site which has noticed some early graphics glitches in the new HD broadcasts of "NewsChannel 5".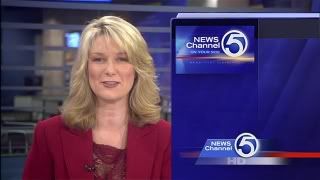 Occasionally, the graphics will freeze up part of the screen, causing digital confusion.
We saw it Tuesday night at 11, but haven't been able to get a picture of it...so imagine it along a large part of the bottom third of the screen of this screen shot, around where the second "NewsChannel 5" logo is.
We saw a "lockup" of the lower-screen graphics which persisted into a later shot, and some up-and-down blocking that almost resembled digital volume levels.
We haven't seen it since, and hope the local ABC affiliate is aware of the problem and working on it. They had to reboot the graphics computer earlier that day, an outage which actually took the HD version of the newscast off the air for a minute or two.
Oh, and we're told that the 16x9 SD live shots and taped video are actually being upconverted on the fly from a 4x3 feed for the WEWS newscasts. That'd explain why some folks look a little shorter and fatter than they normally do...
And we've confirmed that WEWS does indeed play the 1 AM repeat of "NewsChannel 5 at 11" in HDTV format. We presume they're using the same recording equipment used to record "Jeopardy!" and "Wheel of Fortune" in HD...
CINCINNATI TURMOIL CONTINUES:
On the heels of our other news about recent changes in the Cincinnati market, here are some more, courtesy of Cincinnati Enquirer radio/TV guru John Kiesewetter.

Kiese has
word of two more cuts
at the already-hard-hit Clear Channel cluster in the Queen City, at talk WLW/700 "The Big One": long-time "Sci Zone" weekend host Bill Boshears, and "America's Truckin' Network" weekend host Eric "Bubba Bo" Boulanger.
Boulanger continues his "day job" as morning drive host at suburban Cincinnati country outlet WSCH "Eagle Country", just over the Ohio/Indiana border in Aurora IN...
Kiesewetter also
checked in Saturday
with new WFTK/96.5 "SuperTalkFM" sports talk host Andy Furman on the debut of his post-WLW professional life...saying the Clear Channel talker is "in my rear-view mirror" and that he wants to move on.
Without callers? After a star-studded opening day on the new Cumulus FM talk outlet, Kiesewetter notes today that
he heard few calls
on Furman's new show on Day 2...
ONE MORE CINCY ITEM:
AllAccess notes that former Clear Channel top 40 WKFS/107.1 "Kiss FM" programmer Tommy BoDean lands across the proverbial radio street in Cincinnati - programming Entercom's new sorta-alt-rocker WSWD/94.9 "The Sound"...
HATS OFF TO SUE...UH...SHANNON:
OMW hears that though you don't know the name "Shannon Steele", you might know the new full-time midday host at Entercom top 40 WKSE/98.5 "Kiss 98.5" in Buffalo NY.

She's none other than long-time Northeast Ohio radio type Sue Tyler, who has worked locally for stations like Cleveland rockers WMMS and WXRK, Akron's WKDD, and Canton's WZKL "Q92".
Congratulations to Sue!
What's the saying? Success by any name smells just as sweet...