And exclusive as far as we know, at least as of this writing: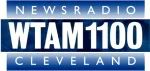 OMW has confirmed that long-time WTAM/1100 news director R.C. Bauer is leaving the Clear Channel Cleveland news/talk powerhouse for a new gig at sister talk WFLA/970 Tampa FL. (We alluded to this item in
the entry just below this one
, but it was just rumor at the time.)

OMW hears that R.C. will be taking the newly minted role of "Director of Information and Programming Services" at the Florida talker, a title which sounds from the description we've heard basically translates to something like "News Director on Steroids".
In addition to primary responsibility for all news and news-related programming both on the station and online, the job also gives him many other responsibilities in both news and programming.
The 10 year station veteran dates his service there back to the last days of "3WE", before it was rechristened WTAM. He'll start in Florida on November 6th.
His new home station is one of the better known Clear Channel talk outlets in the country. Among other things, WFLA was the original talk radio home of Premiere syndicated host Glenn Beck.
Back home at WTAM, OMW hears that assistant news director Darren Toms is moving up to take the news director position, in what should be a smooth transition at Oak Tree...