They're all media related, that's all we'll say...
KEVIN MASON'S DAY:
Even on his way out the door at Rubber City Radio Akron country outlet WQMX/94.9, programmer Kevin Mason can get some notice.
The veteran country programmer has managed to snare an officially pronounced "Kevin Mason Day" - proclaimed by Akron mayor Don Plusquellic, even. (We'll chalk this one up to Plusquellic aide Mark Williamson, the ever-media-savvy former local TV news anchor who's the Official Mayoral Mouthpiece.)
The day, should you wish to celebrate, is Friday, Mason's last day at West Market Street. He's on his way to the VP/GM post at Nashville's Rust Records after that...
WOXY'S BACK:
Cincinnati and environs will likely never see the return of iconic alt-rocker WOXY/97.7 Oxford, whose over-air signal has long since been supplanted by part of the "MAX FM" adult hits simulcast.

But
the website which carried on the WOXY banner
, shut down for financial reasons earlier this year, has been resurrected, as you can read at the above link:
We're back!
And it feels fan-freakin-tastic. It was way too quiet around here for too long. To kick things off right, we have a ton of Lounge Act sessions lined up for the next few weeks and beyond.
So what's changing? Not a lot right away. All the good stuff you've come to expect is all right here... Mike and Shiv, the boards, live Lounge Acts and lots of great music. It's now completely free to listen, and we'll be jacking up the quality of our streams even higher within the next couple weeks.
What brought back WOXY.com, complete with on-air (on-stream?) staffers?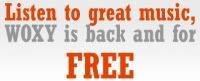 AllAccess says it's the little known CD-trading site
LaLa.com
, which aims to bring all those alt-rock fans into the "spend a dollar to trade CDs" fold. It'll also let folks program their own online radio station using WOXY.com's music...
MCVAY GOES SOLO:
Not much to talk about here, since we generally don't cover consultants or the "back-end" of radio, but veteran Cleveland-based consultant Mike McVay is going solo... with his McVay Media coming out from Clear Channel ownership.
McVay will keep working with Clear Channel stations which wish to continue using his services, and there aren't many other changes expected...
MCMANAMON STAYS, BROWN GOES?:
We touched briefly earlier on the status of Akron Beacon Journal Browns beat writer Patrick McManamon, who was hoping to stay in that role despite announced massive staff cutbacks at the Beacon.
The folks over at the Browns fan site The Orange and Brown Report confirm from McManamon that enough Beacon staffers have taken early retirement, and
the veteran beat writer will stay in his position covering the local NFL team
.
And talk about burying your lead...we're doing it here.
OMW
hinted earlier
that among the Cleveland Plain Dealer's staffers taking an early voluntary buyout - also due to budget issues - was someone who would be of interest to regular OMW readers.
We've been scooped, as it were, by none other than WTAM/1100 afternoon talker Mike Trivisonno, who told listeners that it was sports/media columnist Roger Brown departing the PD.
Now, Triv apparently said it was due to Roger's "lack of credibility". (Not surprising words, considering the war of words between the two personalities over the years.) But OMW hears that The Artful Roger initiated it, taking the buyout offered by the PD.
These rumblings were mostly rumors we could not confirm, though we hear it's been all over the sports media world the past week or so. It's no surprise that Triv had trouble keeping it under his hat...