A wide variety of items from across the world of Ohio radio and television opens up our Monday...including some stuff we meant to mention before...
ABBY GONE:
Yes, we're aware that Gannett NBC affiliate WKYC/3 Cleveland has parted ways with Abby Ham, as the "Channel 3 News Today" co-host heads back to her former TV home, Gannett NBC sister station WBIR/10 in Knoxville TN.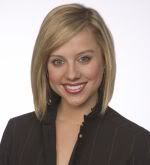 No, we don't know why Ham apparently did her last week solo, we're told without co-host Mark Nolan or weather forecaster Hollie Strano aboard the WKYC morning show that final week.
(We wouldn't read much into it, considering vacations, unpaid furloughs and the like.)
No, we don't know who is in line to replace Abby at 13th and Lakeside...though we'll agree with one suggestion we saw elsewhere: if it isn't a current "Channel 3 News" staffer moved up into the morning co-host gig, you might want to watch anchors at other Gannett stations to see who could make the move to Cleveland.
(See above.)
But though we don't really know any answers here, we had to mark this one in some fashion...and we'll update it as soon as we do "know" something...
CLEVELAND RADIO GUY GOES WEST:
OMW hears that former Clear Channel hot AC WMVX/106.5 "Mix 106.5" imaging director Scott Glaser is heading for California.
Glaser, who's been doing part-time work at CBS Radio hot AC WQAL/104.1 "Q104" since being downsized out of Oak Tree in 2007, will be imaging director/afternoon driver at Sacramento's new 90's music outlet, KBZC/106.5 "The Buzz".
And yes, there's another Cleveland connection.
The Entercom outlet is a sister station to top 40 outlet KDND/107.9 "The End"...which is programmed by former Clear Channel Cleveland top 40 WAKS/96.5 "Kiss FM" program director Dan Mason.
Mason took over as PD for "The End" to help the station recover after an event which could well have spelled "The End" for the Sacramento top 40 outlet...that was the station involved in that now-infamous fatal "Hold Your Wee For A Wii" contest.
We don't track California markets closely, but we think it's safe to say that KDND has recovered somewhat since Mr. Mason got on a plane and headed for Sacramento.
Since 106.5 decamped from its near-legendary status as an alt-rocker, Mason has taken over programming duties there as well...and Glaser ends up there helping him reshape the station on June 12th.
OMW hears that Glaser has also worked in the Rochester market. We'll assume that means the "One True Rochester" in upstate New York, and we assume long-time friend, colleague and World Champion Tower Hunter Scott Fybush will know where...
JUMPING INTO TALK:
By the time you read this, you're likely to encounter a radio format change we've talked about before...Media-Com one-lung Akron rimshot daytimer WJMP/1520 Kent-Akron-Well-Not-Quite-Most-Of-Akron is scheduled to unveil its new talk lineup today.
And we've seen promos for "TalkRadio 1520" on another Media-Com outlet that had its own changes this past week...WAOH-LP 29 Akron/W35AX 35 Cleveland, the entity which used to be known as "The CAT" that now goes by "Retro TV"...after picking up the Retro Television Network lineup.
The TV promo for WJMP/1520 was pretty much to form...with pictures and audio clips from the station's four main syndicated hosts - Talk Radio Network's Mancow, Laura Ingraham and Michael Savage, and United Stations afternoon drive host Lou Dobbs.
For the out of towners reading this, the WJMP call letters actually date back to a few formats ago...when the Kent daytimer started doing an oldies format ("Jump Radio 1520").
Meanwhile, we also heard a promo for the new "Retro TV" on the only Media-Com station most of Northeast Ohio can pick up without resorting to fancy DX-ing radios or a good antenna, talk WNIR/100.1 "The Talk of Akron".
And we noted that the radio promo for the TV station featured the channel 29 side of the LPTV combo, which is licensed to Akron, and aims it signal at Akron from the antenna on WNIR's tower in Brimfield Township, Portage County - on Ohio 43 near I-76.
The spot specifically mentioned WAOH-LP 29's carriage on Time Warner Cable channel 14 in the company's Akron system. (It also actually mentioned the WAOH call letters!)
Which leads us to wonder...will the low-power outlet which has camped out there for a number of years end up somewhere in TWC's Cleveland-based system - now that it's featuring programming people may actually want to watch? We'll see...
AWARD WINNERS:
Ohio radio and TV stations picked up the hardware in Columbus over the weekend, as the annual Ohio Associated Press Broadcasters Awards were announced and handed out.
There are far too many winners in our coverage area to list here, and it wouldn't be fair to even cherry pick, say, from winners at Northern Ohio stations.
But it's no surprise to us that certain stations and news operations continue to pick up the awards by the armful or even boxful. Some of those stations include those with OMW readers, so we'll be happy to hear from various readers/stations here in the comments section to this item.
If you'd like the overall list of winners for 2008, the lists can be found in PDF files
on this page
, on the Ohio Associated Press website...
AND THE LAST ANALOG WEEK:
It is indeed the final week for full-power analog TV in Ohio and beyond.
Coming up later today (we hope), we'll have an extensive update on our other blog,
Ohio Digital TV
...with a link here to lead you to the Other Side of OMW.
We expect the next five days and change to be busy at local TV stations, and not just at a certain site on Broadview Road in the Cleveland suburb of Parma.
We're still lacking on some information about markets outside of Cleveland...we are particularly interested in learning what times stations in Youngstown, Toledo and Columbus will shut off their analog signals...those who have not already made the "switch", as it were...