UPDATE 10:52 AM 6/12/09:
A Friend of OMW tells us that the Plain Dealer's Julie Washington is "still in the building", just not this week...she's on vacation...
--------
In a normal OMW news cycle, putting the words "Dick Goddard" and "retirement" in the same sentence would warrant four-star ALL CAPS BREAKING NEWS! BREAKING NEWS! alerts.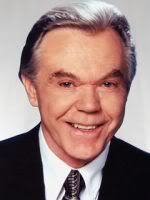 Even if that retirement isn't happening.
But since we have been pre-occupied with the digital television transition the past few days, and since we haven't cracked the code in finding relevant TV/radio-related stories on the Plain Dealer's Cleveland.com, we missed
an article by Plain Dealer theater critic Tony Brown
about Mr. Goddard's future at Local TV Cleveland Fox affiliate WJW/8 "Fox 8".
And for now, at least, the local TV icon isn't going away with the end of the signal of analog channel 8:
Goddard, 78, perhaps Cleveland's most beloved television personality, said WJW Channel 8 had offered him a buyout that, if he took it, could end an on-air career as the city's go-to meteorologist and animal activist that goes back to 1961.
"Everyone here who is over 50 and has worked for the station for 15 years has been offered a buyout, and that certainly includes me," Goddard said shortly after the 6 p.m. newscast ended Wednesday.
Though the man who brought the Woollybear Festival and televised pet adoptions to Northeast Ohio says he'll talk to his agent about it, he doesn't sound likely to exit. "I like it here," Goddard tells Brown.
WJW vice president/general manager Greg Easterly confirms the generalities of the buyout offer to the newspaper, but doesn't offer specifics. He says WJW is "not in dire straits", and cites the general economic and advertising downturn.
And Easterly is very quick to say Goddard "will be around", certainly knowing that even HINTING about the retirement of Dick Goddard is like touching the Third Rail of Cleveland Broadcasting.
(That's the same Third Rail that Cleveland Cavaliers owner Dan Gilbert knows not to touch when it comes to another local broadcasting icon in his 70's, Cavs play-by-play voice Joe Tait.)
So, stand down from the Dick Goddard Retirement Rumor Watch, at least at this point.
Our other question: Why was the story on Goddard done by Plain Dealer theatre critic Tony Brown?
Television news can resemble theatre, at least over at Reserve Square (sorry, it was easy), but we're wondering if long-time Plain Dealer media columnist Julie Washington is no longer in the building.
If that's the case, it's probably more newspaper economic woes, given that the theater critic is now apparently writing media stories...will Brown be asked to write articles for the food section, too?
In the meantime, when Goddard and WJW do eventually announce the weatherman's retirement, we're pretty sure state law requires notification of the governor or something...