Long-time local radio and TV artist Brian Chalmers has passed away.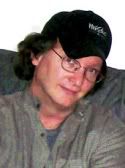 Chalmers was most recently a graphic artist for Gannett NBC affiliate WKYC/3, but is likely better known - at least inside the local media world - as the second "pen behind the Buzzard"...drawing the iconic graphic character for rock WMMS/100.7 after original Buzzard artist David Helton moved up in the Malrite Broadcasting chain.
Former WMMS programmer John Gorman has an item up about Chalmers
on his blog
, with plenty of pictures and memories. (The photo of Chalmers is courtesy of Gorman's blog. So is the Buzzard graphic to the right, though we don't know if Chalmers drew this one.)
There's also a quote up there from Helton:
Brian Chalmers was one of the most creative individuals I have ever known and had the talent, insight and sensitivity of a true artist. His passion for doing great work will forever be an inspiration to me. He was my friend and I loved him like a brother, and I will miss him.
At this point, we have no word on what caused Chalmers' death.
A memorial is scheduled for this Saturday...details are on the Gorman "Buzzard" blog...