Don Imus hasn't been on the radio airwaves in Northeast Ohio for a good 10 years, since his syndicated show aired on sports talk WKNR, then at 1220 AM.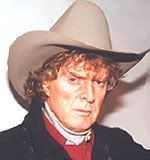 But there are plenty of connections between this region and the now-former host of "Imus In The Morning", a morning drive radio program that aired on CBS Radio, and simulcast on MSNBC cable, until this week.
We won't repeat the oft-reported story here. You've probably already heard that both his radio and TV masters have now shown Imus the door, and he's now without regular daily access to a microphone.
But things running through our head while listening to - and watching - local radio broadcasters talk about "the new climate" based on the quick suspension, and later firing, of Imus...
WE MADE HIM:
Cleveland has played a huge role in Imus' career.
Don Imus started in radio in the small Southern California city of Palmdale, which was once even more out of the way than it is now.
He eventually aired in places like Sacramento. But his "big market break" was in Cleveland, where he worked at the old WGAR/1220. He was "discovered" here, and quickly headed for New York, where he ended up staying.
HIS RETURN:
...well, most of the time. A transgression in the Big Apple forced his corporate masters to ship him back to Cleveland as "punishment", where Imus held court on WHK/1420 for a year or so...before finally returning to, and staying in, New York.
When his home base in New York, WNBC/660 ("66 W-NNNN-BC"), switched to sports talk - WFAN/1050 entered a deal and took over 660 from NBC - the station kept Imus on in morning drive. Of course, the frequency once also aired Howard Stern in afternoon drive - before the latter host moved to FM on then-WXRK/92.3 "K-Rock". (Our thanks to Lance Venta of radioinsight.com for the memory correction.)
(Of course, those calls and format name are now on the very same frequency here.)
HIS SYNDICATION:
His success on the relatively new sports talk station prompted sports radio stations across America to add "Imus In The Morning".
One of those stations was Cablevision's new sports talk outlet in Cleveland, WKNR/1220 "SportsRadio 1220". And yes, it was the very same frequency where Imus vaulted into stardom when it was WGAR.
Imus was around on 1220 the second time for a couple of years or so, if we remember right, in the mid-1990's. At some point, WKNR and other stations realized that just because Imus got big ratings in New York City on a sports outlet didn't mean he'd get similar ratings in other cities running the format.
(Someone commented to us today that if WFAN had run dogs barking in morning drive and it got ratings, every sports station in America would follow.)
ABOUT THAT NEW CLIMATE:
Local talkers like WTAM/1100's Bob Frantz and Mike Trivisonno cite the "post-Imus world" we're now in...where they are worried that their every word could lead to someone being offended, and doing something about it...costing them their jobs.
In reality, though we understand any host's concern about this sort of thing, we'd respectfully submit that the worry is overheated in light of very recent news events. Maybe some perspective will be gained over time, and we'll see just how this all fits in - like with the infamous "Janet Incident" at the Super Bowl a couple of years or so ago.
While we're at it, in a case of Major Timing, nationally syndicated afternoon drive host Michael Baisden just happened to be in Cleveland today, doing his talk show from the studios of Radio One urban AC WZAK/93.1.
Baisden provided perspective for WZAK and his national listeners, including airing a live, telephone interview with Al Sharpton, who has been a part of this story and who hosts a show for Radio One - which airs on WZAK sister station WERE/1300.
And Baisden also became the perfect interview on the story for Cleveland's local TV stations...