Countless local radio types credit one thing for their career in the business - the late 70's-early 80's TV show "WKRP in Cincinnati".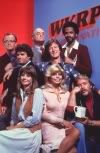 And it only seems that we've been waiting that long for the DVD version of the show, the first season of which is released in stores today.
Not only is there that inspiration, there's also the Ohio connection...the southwest Ohio city which served as the home of the fictional radio station in the CBS sitcom.
As would befit a newspaper headquartered in the Queen City, the Cincinnati Enquirer has put up a number of articles, quizzes and even videos to accompany the release date.
Enquirer TV/radio guru John Kiesewetter weighs in with a bunch of stories in Sunday's paper, such as
this one
about people so drastically affected by "WKRP" that they either moved to Cincinnati, or went to college there, after seeing the show. One Danish teenager was so taken, she got into an exchange student program that sent her to Cincinnati - where she still lives today.
But our favorite "WKRP" bit on the Enquirer's website is a video by Enquirer photographer Glenn Hartong, with Kiese's help, recreating the original 'KRP opening sequence with today's Cincinnati landscape.
For one, Paul Brown Stadium is there now, and Riverfront Stadium is not. The video compares the original opening sequence (with music) to today's Cincinnati, side-by-side. It's linked from all of the WKRP stories on Cincinnati.com - we don't want to put up the window-laden direct video link here.
Kiese has much more, including a behind-the-scenes of that recreation and some other stuff that wouldn't fit in print, on
his TV/radio blog
.
And yes, there is that music thing.
As has now been made clear, the "WKRP" DVD has been excised of much of the music which served as a soundtrack to the original show. (A Canadian magazine writer, Jaime Weinman, has a pretty extensive list of the substitutions
here
.)
While the show's original producer, MTM, used videotape instead of film for the very same reason - music rights costs - those rights don't transfer to the world of DVD. And, including the same "real" music from popular artists of the day would apparently drive the cost of the DVD set into the stratosphere. We believe there was music substitution even on the original VHS tape release.
This is only a small problem in some places on the show - but musical interludes provide a number of the show's turning points in a number of episodes. The music issues even forced them to take "Fly Me To The Moon" off of Jennifer Marlowe's world-famous apartment doorbell.
Still, short of charging over $100 (just our guess) for the first season's DVD set - which would mean very little sales - this was the only way they could get it out on the market.
So, we're resigned to it, and sigh at the thought of a Russian defector calling the one and only Bailey Quarters "terrible dresser" (we guess it was a dub for "Tiny Dancer", as in that song removed), but realize that many other scenes have no major music connection - like the infamous "Turkey's Away!" that even non-regular WKRP viewers know.
And there's still a lot to like about WKRP, even without some key musical interludes.
And yes, Cincy is one of those towns which jumps and jumps when a local connection is big news in the national media, so the 'KRP stuff on local media there this week may seem a bit excessive.
But remember, Cleveland, we have all those Drew Carey newspaper stories...