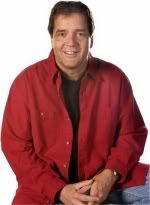 An update on the syndication effort of WLW/700 Cincinnati midday host Mike McConnell, which starts today:
McConnell
tells Cincinnati Enquirer TV/radio columnist John Kiesewetter
that his show started airing today on "a handful of stations", though none of them are listed. He says a month or two down the road, that affiliate list could be "significantly higher".
The veteran WLW midday talker (pictured here in an Enquirer file photo) says the syndicated version of the show can run something different - like pre-taped interviews - if there is local breaking news on WLW. But even McConnell admits that if there's a huge local breaking news event in Cincinnati, the station will have to tap a local host to cover his program on WLW.
He says his existing program won't be radically changed for WLW listeners, noting that he hasn't focused more than 25 percent of the time on local topics in some time.
McConnell tells Kiesewetter that his goal in this is "to win", and thinks it'll take him about two years to be atop the list of syndicated hosts in the mid-morning slot. He's not fazed at all by competition including Premiere/Clear Channel stablemate Glenn Beck, former Premiere host Dr. Laura (often aired in the 9-noon ET slot in the Eastern time zone), or TRN's Laura Ingraham.
Unlike most new syndicated hosts, McConnell has a track record nationally. His Premiere-syndicated "Weekend with Mike McConnell" airs on 120 stations nationwide, not all of them owned by Premiere and WLW parent Clear Channel. And his regular WLW-based midday show has aired nationally for the past four months via WLW's slot on XM Satellite Radio channel 173...