In what's really not likely to be a surprise to anyone...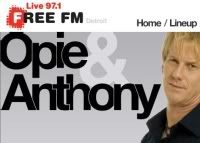 CBS Radio talk WKRK/97.1 "Free FM" Detroit is replacing Cleveland-based syndicated morning doggie Shane "Rover" French and his "Rover's Morning Glory" with...drumroll, please!...CBS/XM's "Opie and Anthony".
The move was reported by AllAccess this afternoon, and is confirmed
by the station's website
- pictured at left here.
Again, no surprise.
O&A have basically been "warming up" as the morning team at sister CBS sports talk WXYT/1270 for the past few months. The placement of the duo on an AM sports talk station screamed of "we're putting them here till we decide if we're blowing out Rover on 97.1".
Cleveland's gift to the morning syndicated radio world could also face displacement in some of his other syndicated outposts, as CBS Radio is selling off stations in Rover markets like Rochester NY to other operators.
At last check, Rover and his crew don't do their show in Spanish...