After agreeing to air the new Cincinnati market digital-only CW affiliate "CinCW" over the weekend, Time Warner Cable in the region has found a place for it. Actually, three places, but mostly not at the same time.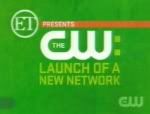 Cincinnati Enquirer TV/radio guru John Kiesewetter reports that on CinCW's maiden voyage, the new digital subchannel of CBS affiliate WKRC/12
was added Monday afternoon on digital channel 913
.
That TV nosebleed location is next to WKRC's digital/HD channel (912), and the same placement new MyNetworkTV outlet "My YTV" got in Youngstown, next to its parent station WYTV/33's digital/HD channel.
But that's not the permanent home for CinCW on TWC.
The station's CW programming (only) will be simulcast from 8-10 PM on Time Warner's analog channel 2 for the next month, but the entire station will take over analog channel 20 in 30 days, on October 18th. That's due to the FCC requirement for cable systems to give a 30 day notice to dumped channels.
And yes, that means scrappy now-independent LPTV outlet WBQC-CA/38, formerly known as "UPN 38", will be bumped from its prime-time only placement on that same channel. WBQC owner Elliott Block tells Kiesewetter that he's hoping to grab a digital cable full-time assignment:
"I hate to lose being on basic (cable), but there was so much confusion because we were only on five hours. People would tune in during the day and find home shopping or something else," Block says. "Being full-time on the digital level may be the best thing."
And Block doesn't have much to fight with, regarding Time Warner. The new CinCW channel has also bumped WBQC from its long-time carriage on DirecTV's channel 25...