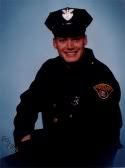 Ever since Cleveland police detective Jonathan "A.J." Schroeder was gunned down and killed trying to serve a warrant, local media has been talking about the story.
In addition to the usual news coverage on local radio and TV, stations have been getting involved and trying to do something beyond the usual coverage.
CBS Radio classic rock WNCX/98.5's morning show ("Mud, Mihalik and Mike") has been particularly active, using the airwaves to raise money for
the Jonathan Schroeder Memorial Fund
. The station has held an auction, thanks to listener donations and local businesses which have contributed items.
And Clear Channel talk WTAM/1100 mid-morning host Bob Frantz holds a live "police support" rally this afternoon at Gateway Plaza, the area between Jacobs Field and Quicken Loans Arena. The 2-6 PM event will air live on the station. Quoting a station release:
"When I moved back home, I wanted my show to address the unique needs of this community and directly relate to Clevelanders," said Bob Frantz.

He continued, "This rally was born from my disgust with all the anti-police rallies being held by activists who protest the work the officers do. This was my way of showing them that Cleveland supports its protectors unconditionally. The rally will honor those who have fallen in the line of duty, it will encourage those who currently serve, and will help give our community a renewed perspective of police service."
The rally certainly fits with the discussion which has taken place on his program since Schroeder's slaying, and the wounding of a Medina County Sheriff's deputy days later...