Here at OMW, we often tell you that when we leave town...major changes seem to happen. That truism now seems to apply to our visits *to* a city...or rather, our exit from a visit.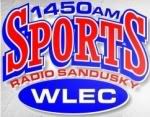 As we'd
hinted in an earlier item
, Clear Channel standards WLEC/1450 Sandusky has changed formats, from "American Music Classics" to a sports format as "Sports Radio Sandusky".
The station's website
has already been changed to reflect the new format.
And the format change literally just happened...tonight.
Your Primary Editorial Voice(tm) was driving around the Sandusky and nearby areas this afternoon, in part to hear the format change of the last AM in the area to move from music to sports, "ESPN 1510" WLKR, the AM daytime side of WLKR/95.3.
OK, so we were mostly there to enjoy beautiful early September weather near Lake Erie.
But we'd been tipped off to the possible change to WLEC, so the combination of all the above prompted us to put some less expensive gas in the car and head up to the Lake Erie vacationland region this afternoon.
And when we were in the area, WLEC was still serving up the standards format...as late as 6 PM, when we were leaving the region. (We suppose a big high school football evening is a great time to kick off a format in a small market!)
We've been listening to WLEC's Friday night high school football coverage, and the station's Steve Shoffner has been giving some information on the new sports format lineup.
The station will rely on FOX Sports Radio for its network coverage, and will also carry Premiere's Jim Rome in his usual midday time slot.
It'll continue to be the local outlet for all three Cleveland professional teams, and for Ohio State sports, along with all the local coverage of high school sports...and Westwood One/CBS Radio sports programming, including the NFL and baseball coverage.
Shoffner also promoted what we assume is a local weekday sports talk show with Dave Wiedenheft, Monday through Friday from 3-7 PM, and a continued local morning drive show from 6-9 AM...we believe with Shoffner joining host Mark Fogg.
WLEC's Saturday morning local sports show expands to 10 AM to noon, and the station will carry the new Premiere show hosted by Bob Costas from 6-8 AM on Saturdays, starting next week.
Of course, we're listening late tonight via
WLEC's Internet simulcast
, since they were still doing standards when we left town. Sigh...it's our timing, again!
NOTE TO WLEC/CC SANDUSKY STAFF:
Since we're sure someone up there will read this at some point...
As of just after midnight, your brand new FOX Sports Radio feed is not making it to the Internet simulcast...which is featuring the golden tones of "Dead Air", and has been for some 10 minutes.
We're pretty sure FSR is not on the "can't broadcast online list"...
(We could also point out that we didn't hear a legal ID out of the other new sports station in the area, Elyria-Lorain Broadcasting's WLKR/1510 Norwalk, for at least two hours on Friday afternoon...)