Regular OMW readers know we've been keeping track of the behind the scenes activities at the FOX owned and operated stations group, which includes local WJW/8. Over the past few months, they've been unveiling revamped local websites, and even doing set and graphics makeovers in some markets.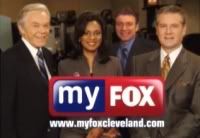 The first evidence of that in Cleveland is now live, as
"MyFoxCleveland.com"
has gone public in what appears to be an open beta test.
We say that because we haven't seen it promoted on the station, and the
"Fox8Cleveland.com"
site is still up and being updated.
Unlike the existing site, the "MyFox" template allows FOX 8 to update local news in-depth online, and gives the station its first online news video offering.
It also gives a preview into what could be the future of the station's on-air look, with a different "FOX 8" logo, and a "FOX 8 NEWS" logo that mimics rotating, "searchlight" style of the parent company's widely successful cable outlet, FOX News Channel.
There's no word when that style could migrate to the airwaves, but it's being initiated slowly across other FOX O&Os around the nation...