Barring unforeseen events, this is probably our last update before Christmas Day, and we've put off a lot in the focus on our two or three major news stories this past week.
We're also planning a special Holiday Message/State of OMW post some time in the next few days...yes, more navel gazing is in the cards. Until then...let's clear out our "inbox"...
FURMAN TO WFTK:
We spent a lot of time on this back when he was fired from WLW/700, the Clear Channel talk powerhouse in Cincinnati, so it's only right for us to wrap up loose ends.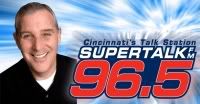 Those loose ends were tied up as expected, and even rumored. Former WLW "SportsTalk" host Andy Furman has indeed landed on the FM dial, where he'll do
an afternoon drive show
for Cumulus talk WFTK/96.5 "SuperTalk FM" starting January 8.
The Cincinnati Business Courier notes Furman's
history of high-profile interviews
, with everyone from Pete Rose and Sparky Anderson, to Nick Lachay.
And speaking of interviews...writer Robert Riggsbee, a local media consultant who provides the Business Courier with TV/radio coverage, says Furman hopes to interview T.J. Houshmandzadeh on his new "Prime Time Sports" show on the FM talker.
Yes, the same Cincinnati Bengals player Furman called a "racist" on his WLW show, an incident which eventually led to his dismissal from "The Big One"...
WILLS AND SNYDER:
It's no surprise, really, but Clear Channel talk WTAM/1100 has officially renamed its morning drive program after the passing of station vet and long-time Cleveland sports icon Casey Coleman.
The program that has been called "Wills and Coleman" is now "Wills and Snyder", with WTAM sports director Mike Snyder permanently sliding into the chair alongside Bill Wills. Snyder has already been there for some time, as he filled in for Mr. Coleman while he was away from the microphone.
We haven't heard if the other change prompted by this unfortunate turn of events is permanent: sports anchor Mark Schwab's presence on the WTAM afternoon drive foodfest hosted by one Mike Trivisonno...
WEWS HD NEWS:
You think, maybe, that Cleveland ABC affiliate WEWS/5 is converting its newscasts to the HDTV format?
Maybe.
Maybe that's why "NewsChannel 5" has done roughly 20 stories on buying a new HDTV set in the past week or so. We don't spend a LOT of time with the station, but we keep seeing those stories.
And we did happen to catch confirmation of an item the station first hinted about on its own website, which we passed along a few months ago: Anchor Leon Bibb noted the other day that "NewsChannel 5" will start being broadcast in HD "sometime next month".
The move makes WEWS the third (!) HDTV news operation in the Cleveland market, turning Northeast Ohio into an elite market for HD news. WJW/8 "FOX 8" started the trend, and NBC affiliate WKYC/3 followed a few months ago.
We haven't checked the list, but we believe Cleveland is one of maybe three markets in the country with three competing HDTV news operations.
As of yet, we don't know how the station will handle video from outside the studio. WJW still shoots all field video in 4:3 format, while live shots are 16:9 SD. WKYC does 16:9 SD for both live shots and recorded local field video (in most cases).
Both have HD "live cams". WJW has mounted one off of its South Marginal Road roof and WKYC has one at Jacobs Field, the result of its partnership with SportsTime Ohio and its HD Cleveland Indians broadcasts.
We can't help but repeat the pesky rumor that WEWS may end up with an HD helicopter, as it was poking around a recent trade show looking at one...and we wouldn't be surprised if "SkyFOX" also makes the HD conversion.
And feel free to suggest that Raycom Media CBS/UPN combo WOIO-19/WUAB-43's "19 Action News" will make it four for four in HDTV newscasts. We can always use a good laugh...
ROGER'S BACK:
And while we're talking about the folks at Reserve Square...
Yes, as hinted and rumored around the time that former Cleveland Plain Dealer sports/media columnist Roger Brown left the paper after taking a budget-driven buyout, he will indeed appear as a contributor on "19 Action News".
PD radio/TV columnist Julie Washington reports that
Brown will host a twice-weekly segment
called "Roger Brown's Insider Report"...Mondays and Thursdays on the station starting on January 15th.
(We're curious if there's any overlap between Brown's new segment and one featuring a certain well-fed afternoon drive radio host...we'd almost pay to watch that one.)
Here's the quote of the weekend, though, from Ms. Washington's item:
"Channel 19 is definitely the most provocative and most willing to push the envelope. I definitely fit in with that."
Uh huh, Roger. OK.
The segment will apparently not be limited to the world of sports, though we're sure that's a base. We have no word at this time on when real estate news will be featured.
Julie also touches on the previously-reported-by-OMW changes in WEWS/5's anchor lineup, and says news director John Butte hopes to name permanent "Good Morning Cleveland" anchors by January.
And she visits with syndicated women's-oriented weekend radio show "Family Matters"...which airs weekends on Salem's WFHM/95.5 "The Fish" and talk WHK/1420 in Cleveland, as well as Cumulus Toledo talker WTOD/1560 and a station in Rhode Island...
BAISDEN TO LIMA:
And a tip of the hat to a regular OMW reader who's back in the Buckeye State.
Former Sandusky and Mount Vernon radio type Dan Baisden has landed in Lima, where he's taking a new job as program director at the Maverick Media cluster there. He'll oversee hot AC WZOQ and AC WDOH.
Baisden has been in Lafayette IN, where he's programmed top 40 WAZY, country WLFF and classic country WLAS(AM).
Maverick Lima PD Justin Kase slides to the west, where he'll program a Maverick AC outlet in Rockford IL...