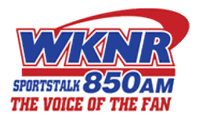 Yes, yes, yes...in response to what feels like dozens of E-Mails (please, keep 'em coming!), we heard that new WKNR/850 owner Craig Karmazin was on with afternoon drive host Kenny Roda on Good Karma Broadcasting's new Cleveland sports radio acquisition.
Based on what we heard, both described to us and on the radio with our own ears - Karmazin started at 4 PM, and took listener calls with Roda for the rest of the show in a 3 hour session, give or take a sports interview - it appears the new 'KNR boss wants to hear from basically everyone with a pulse and who is interested in sports radio in Cleveland.
We heard him joke (we presume) that the "on air research" saved him $200,000 in paid research.
Anyway, the calls are as you'd expect they were, at least what we heard. People weighed in in favor (and not in favor) of current hosts, told Karmazin that they wanted a local morning drive show - though some were happy with either ESPN's Mike and Mike and FSR's Steve Czaban - and made other suggestions.
Names of Cleveland Sports Radio Past got mentioned, including former 'KNR host Kendall Lewis, who now does middays at Paul Belfi's Internet outlet,
SportsTalkCleveland.com
.
And you can pretty much go down the list of former WKNR hosts or other prominent Cleveland sports names not on the radio right now (Paging Les Levine! Hello, Bruce Drennan! Chuck Booms, come on down! etc...) to hear some of the other suggestions. We hear Booms got specific mention from Roda, who is apparently a friend of his.
In addition to kicking around morning drive, Karmazin also mentioned in response to a caller that the evening slot (7-10 PM, he framed it) was also important to a sports radio station, as it is when various events are going on.
He didn't say he was going to expand the station's programming in that regard, and didn't commit to a local morning drive show - or anything - in the time we heard, but he was clearly trying to get input.
To that end, OMW hears that "Cleveland's ESPN 1540 Insiders" - those who signed up for the online club at the ESPNCleveland.com website for now WKNR-sister station WWGK/1540 - have also gotten an extensive "what do you like, what don't you like" questionnaire. We'll post it as a comment to this item as soon as we can find it.
He's also welcoming public E-Mail comments, with his address now published on
the WKNR website "Contact" page
.
(We notice there that the list of E-Mail addresses has been pared down significantly, with only Karmazin, his sales executives, promotions director Jason Gibbs, sports director Greg Brinda and Roda now listed.)
Karmazin noted that Premiere syndicated host Jim Rome (noon-3 on 850) E-Mailed him immediately upon learning of his purchase of the show's Cleveland affiliate, and offered to his "full support".
OMW hears that Karmazin also confirmed a report we posted here shortly after the WKNR acquisition was announced...both stations will move into the Galleria shopping mall/office complex on East 9th Street in Downtown Cleveland, a Dave Zastudil punt or five away from Cleveland Browns Stadium.
After his run with Roda, Karmazin slipped into another studio - we presume at the WKNR facilities on Broadview Road - to do his "Steve and Craig" hour-long evening show for some of his other stations. The show is expected to air on WWGK when the station's hours permit it to do so...