Random potpourri to propel you into the weekend:
MELISSA MACK TO FOX 8?:
Several alert OMW readers pointed out the presence of a new weather person on the airwaves of FOX O&O WJW/8 Cleveland.
She's Melissa Mack, who apparently is now the former morning weather anchor at Youngstown ABC affiliate WYTV/33. We say "former" because WYTV has pulled the Vienna Township native's link from the station's
staff bio page
, much like FOX 8 did with, say, now-former weathercaster Heather Weber.
We don't know what Mack's status is at WJW. We suspect she's auditioning or doing fill-in for the role, and we are guessing that former WEWS/5 weatherman Brad Sussman went through the same process a while back on FOX 8.
Neither forecaster has been added to the FOX 8 online roster as of yet...
TWC DUMPING FOX 8?:
Speaking of the local FOX O&O...readers also pointed us to this ad in Thursday's Akron Beacon Journal.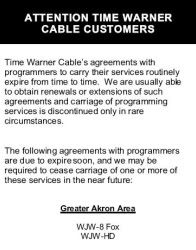 In it, Time Warner Cable tells local viewers that the
expiration of the agreement to carry WJW, and the HD signal for the Cleveland station, is "due to expire soon".
But as you can see from the wording here, they're trying to temper the news, by saying "we are usually able to obtain renewals or extensions" and that programming is only discontinued "in rare circumstances".
(Well, rare, unless you're the NFL Network. But we digress.)
We haven't run this one by Bill Jasso, TWC's local media relations guy, but we haven't heard any rumblings that there's anything to this aside from legal requirements - yet.
We've also heard of no major difficulty between FOX Broadcasting and Time Warner Cable on a national level, as far as local station carriage is concerned.
And we don't know if this is only applicable to TWC's original Northeast Ohio (Akron/Canton) system, or if it applies to the systems recently acquired from Adelphia and Comcast. We'll bounce this one off Mr. Jasso and see if there's anything more to it...
AND SPEAKING OF THE NFL NETWORK:
We've been going through various news items from various places, and the Time Warner folks seem to have the upper hand when it comes to the impass with the NFL's TV network.
There's apparently no massive outcry from folks who missed the Thanksgiving Night NFL Network contest, who also missed last night's game.
If anyone's gonna blink on this, it would appear to be the NFL Network. There's word that they are moving to offer the TV games via broadband Internet, though we don't know the details about that yet.
The NFL Network's biggest problem using these games as a bargaining chip? Simple. The league's own rules require it to broadcast cable/satellite games on local over-air stations in the two home markets of the teams which are playing.
Here in Northeast Ohio, that means FOX's WJW/8 will carry the December 7th contest between the Cleveland Browns and the Pittsburgh Steelers, and no one in the Cleveland TV market will go without the game. (Of course, as bad as the Browns are playing lately, they may WANT to go without the game.)
As it turns out, it appears not many care about "Other NFL Matchups"...otherwise known as Games They Wouldn't Have Seen Anyway on Sunday because they'd have been on CBS/FOX regional telecasts.
We're still trying to find out if FOX 8 will carry the HDTV feed of the NFL Network clash with the Steelers. We know it's available to local stations, and has been carried elsewhere. We'd ask the station, but they're not exactly thrilled with us after a certain recent story...
AND ONE INVOLVING AN EX-CLEVELANDER:
AllAccess reports that afternoon sports talk host Peter Brown is out at Entercom's Milwaukee sports talk station, WSSP/1250.
Yes, that's the same Peter Brown who hosted a controversial afternoon drive show on Cleveland's WKNR, back when it was on 1220 and back when it wasn't owned by Salem.
No, we haven't heard yet if WKNR's new competitor in the market, Good Karma Broadcasting's WWGK/1540 "Cleveland's ESPN Radio 1540", is talking to Peter.
We'd tend to guess "no", and don't know if Mr. Brown is up for a return to Cleveland, but we've been surprised before.
And Good Karma boss Craig Karmazin certainly knows of Brown, as his Milwaukee sports talk outlet has competed with him - in recent times with afternoon drive host Steve "The Homer" True holding down the slot on Good Karma's "ESPN Milwaukee" (the day/night combo of WAUK/1510 Waukesha WI-WMCS/1290 Greenfield WI)...