Yes, this one's so big that we need a second followup.
HELLO, GALLERIA:
Yes, in answer to numerous off-blog questions, we're aware that Good Karma Broadcasting intends to consolidate the operations of WKNR/850 and WWGK/1540 into new studios at the Galleria at Erieview.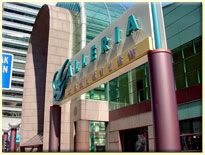 That's the upscale shopping center/office complex on East 9th Street, or a short shuttle from Cleveland Browns Stadium and not that much farther from Jacobs Field and Quicken Loans Arena.
It's sure a lot closer to all of Cleveland's major professional sports venues than, say, Broadview Road...or Euclid Avenue and East 80th Street for that matter...
HOUSEKEEPING:
We understand that the Good Karma LMA of WKNR actually started immediately, with the very next paychecks for WKNR employees being handled by the new operator/incoming owner.
However, the station sounds - at least today - exactly as it did two days ago. We have not heard any changes on the air...aside from perhaps something we may be imagining, a "spring in the step" of on-air personalities. It's almost like they sound, well, happy...even if it's not entirely known how many of them will end up staying.
NOT AROUND:
We're also not sure, now, that now-former WKNR program director Michael Luczak is staying with Salem in Cleveland.
Though Luczak has also been programming sister talk outlet WHK/1420, it would seem that being in charge of just one station isn't enough to keep him at the cluster as far as budgets are concerned. Large broadcast companies tend to not keep around people to run only one station these days - just ask anyone at Oak Tree.
Could he be sniffing around elsewhere within Salem?
WE'LL TAKE RIZZO TO BLOCK:
More and more, from the large number of sources we have on this item, it appears that WJW FOX 8 sports anchor Tony Rizzo is a key piece of the puzzle for Good Karma's local sports radio operation.
We haven't heard any solid information on where he'd land in the company's lineup, but we suspect "daily on 850" is a good bet. We would assume that Rizzo, Good Karma boss Craig Karmazin, and the folks at WJW are hammering this one out even as we type.
While we're at it, multiple sources (!!) keep talking about Peter Brown as a possible hire in the Good Karma sports pantheon.
Mr. Brown, as we've mentioned before, is the former afternoon driver at the station then known as "SportsRadio 1220 WKNR"...long before Salem bought the station. Out of all of the former WKNR personalities, he's perhaps the most remembered - and controversial.
He's also currently unemployed, since Entercom sports WSSP/1250 Milwaukee let him go from its afternoon drive shift not long ago...where he competed against, you guessed it, Good Karma WAUK/1510 host Steve "The Homer" True. Needless to say, Mr. Karmazin knows Brown's work.
We're told by more than one source not to rule out names like Kendall Lewis, another former 'KNR host currently doing middays for SportsTalkCleveland.com, in some role...and maybe there's even pursuit of a player at a certain broadcast facility on Oak Tree... but probably not who you'd guess.
This is mostly speculation, based on some pretty decent information. We bear no responsibility if any of these names do not end up on the WKNR or WWGK rosters...but assuming FOX 8 is OK with the talk radio moonlighting, we would almost bet money on Rizzo being involved...
COVERAGE:
Akron Beacon Journal sportswriter George M. Thomas covers the sale in
his Tuesday sports media column
, which ever-so-conveniently shows up the day after the sale. (How'd you work out that timing, George? Heh.)
Mr. Thomas gives some unsolicited advice to Mr. Karmazin, most of it involving beefing up the local sports talk presence of the sleeping giant at 850 AM. We wouldn't be surprised if much of it happens, though we're not sure Jim Rome would go away or gets moved...and haven't heard even any rumblings about this as of yet.
Oh, and since we know George is an OMW reader - umm, Good Karma's original Cleveland sports outlet is "WWGK", not "WKKG". (Unlike previous columnists who have covered radio issues for the Beacon, we trust George is putting that into his word processor.)
And technically, 1540 is not "outside Cleveland"...it's well within the city limits, at Euclid Avenue and East 80th Street on the city's East Side.
With a 1000 watt daytime signal, it may sound like it is "outside" Cleveland, tho...
AND FINALLY...:
By the way, we're getting none of this information directly from Good Karma boss Craig Karmazin, though we know he's a reader here (and has responded before).
OMW has issued an invitation to him to respond to any of our items, in any way he sees fit.
But as we noted to him, we get the idea that just about anyone who's ever said the word "sports" into a microphone within 100 miles of Cleveland is camped out on his doorstep right now. We understand if he's too busy to respond...but we're here whenever he's able, or wants, to do so...
UPDATE 11:32 PM 12/5/06:
We have indeed heard from Mr. Karmazin, who acknowledged our item and helpfully pointed out, umm, a typo on the price of the studios he plans to build at the Galleria complex. That's $10 million for the entire sports radio shooting match, of course, including the costs of buying both WKNR and WWGK, and the studios.
We have a couple of other items related to future programming on at least one of the two stations, which we'll put up soon...