OMW readers in Central Ohio tell us that rumored changes at Clear Channel's two Columbus AM outlets have been announced, officially.

This afternoon on talk WTVN/610, station management announced another reshuffling of the station's talk show lineup.
Losing yet another large market Clear Channel talk station clearance is Premiere's Glenn Beck, who will be bounced off of WTVN's mid-morning slot in favor of...local host Joel Riley, who's currently on the schedule from 6-9 PM.
The Riley move to the 9 AM-noon slot allows the station to expand popular afternoon drive host John Corby another hour (3-7 PM), and ABC Radio host Sean Hannity's show moves up to 7-10 PM. Hannity's show took hold in late evenings after the station dumped long-time late night host Steve "Boom Boom" Cannon.
We also are hearing what will happen to sister liberal talk outlet WTPG/1230 "Progressive Talk 1230".
According to those who heard the above mentioned WTVN appearance, 1230 will become a sister talk station (without the current liberal lineup) to 610.
The lineup presented to us - starting January 8th - would include:
* WPGB/104.7 Pittsburgh-based Jim Quinn and Rose Somma-Tennant's "War Room" in morning drive.
* TRN's Laura Ingraham in mid-mornings.
* Premiere sports talk star Jim Rome making his return to both Columbus and an old frequency in the noon-3 slot.
* Self-syndicated money advice guru Dave Ramsey in afternoon drive.
* And...TRN's Michael Savage in evenings.
We hear Westwood One's Bill O'Reilly may also be in the mix, along with what we'd assume is a new affiliation for sister WLW/700-based syndicated overnight trucking show "America's Truckin' Network with Steve Sommers".
We know of one other change for 1230, thanks to long-time Friend of OMW Scott Fybush, keeper of world-famous radio/TV data site
100000watts.com
.
He tells us that WTPG has picked up new call letters...WYTS. ("Your Talk Station", perhaps?)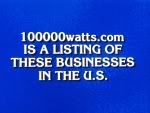 And when we say "world-famous", we mean it.
We'd probably fall over backwards and have a heart attack if we saw OMW as the subject of an answer on "Jeopardy!", like good ol' 100K was recently.
(By the way...the contestant buzzed in that the question was "What are electric...power plants?" Ah, well...)