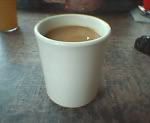 When your Primary Editorial Voice(tm) returned home tonight, we were about to report that we believed former WAKS/96.5 "Kiss FM" voicetracker "Java Joel" Murphy had the inside shot at returning to the Clear Channel Cleveland top 40 outlet's open night slot, this time live and in person.
It turns out our feelings were even more accurate than we suspected.
"Java Joel" will indeed take the night slammer slot opened up when J-NIICE announced he'd join former WAKS program director Dan Mason at his new outpost at Miami CC top 40 sister station WHYI "Y100".
The news was not only reported today by AllAccess, but
was mentioned in Friday's column
by Chicago Sun-Times media guru Robert Feder.
"Kiss Cleveland"'s current program director, Bo Matthews, tells the trade website that he "was looking for someone that isn't a DJ -- but is a personality. Someone that can make noise -- someone that can change nights in Cleveland. I am confident that we found him."
As for Java Joel, Matthews figures he'll be doing VTing for other stations out of his new base in Cleveland - much like he did out of "Kiss FM" sister WKSC/103.5 Chicago.
It's been a long road back for Murphy. He was bounced from that Chicago station for an ill-advised, off the cuff comment year and a half ago. That also took him off of WAKS and his other Clear Channel VT clients.
Since then, he's done sporadic Chicago fill-in work, both on CBS Radio talk WCKG/105.9 "Free FM" there and on various suburban stations.
He's been keeping his vocal cords busy in recent months voicetracking afternoons on Montreal Canada top 40 rimshot WYUL/94.7 "Hits FM" Chateaugay NY, one of those small market upstate New York stations making hay across the international border...not far from Java Joel's hometown of Massena NY.
"Hits FM" actually picks up some ratings in Montreal, no doubt due to the fact that A) its signal strength is best there in the city's western, mostly English-speaking suburbs and B) it is not bound by the "CanCon" (Canadian content) rules that Canadian stations have to follow...where they have to play a certain percentage of Canadian artists.
As such, it's basically an American station in Montreal, and it's 25 percent owned by Canadian radio giant Standard Radio. But...it's not a full-time gig in a top 30 U.S. market.
Java Joel calls the "Kiss Cleveland" trio of regional programming VP Kevin Metheny, PD Matthews and APD/MD Kasper "some of the most innovative, passionate and *fearless* radio people in the industry today".
And Java Joel's arrival comes not a moment too soon.
Weekend voicetracker "Chase" covered the night shift on Kiss FM tonight, and said he'd be talking to a listener from "Mu-DEE-nuh" next. You know, that city southwest of Cleveland and west of Akron off I-71, as we're pretty sure WAKS doesn't even have online listeners in Saudi Arabia.
Joel? Please get with Kasper and Bo about local pronounciations...